Cervical screening saves an estimated 5,000 lives a year by detecting abnormalities of the cervix early and referring women for effective treatment.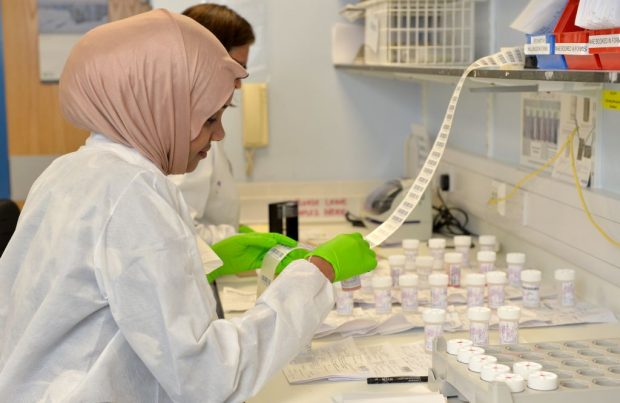 The NHS offers cervical screening to all eligible women aged 25 to 49 every 3 years and those aged 50 to 64 every 5 years.
Human papillomavirus (HPV) is a common virus transmitted through sexual contact. Some high risk sub-types of  HPV (HR-HPV) are linked to the development of abnormal cells and can cause cervical cancer.
HPV testing in cervical screening
If screening results show borderline or low grade abnormal cell changes, laboratories perform a test for HR-HPV. This is known as HPV triage. If they find HR-HPV then the woman is referred to colposcopy. If HR-HPV isn't found women can be safely returned to normal recall.
The NHS Cervical Screening Programme (NHSCSP) has now approved the 2 new tests below for use in HPV triage and test of cure screening protocols. These protocols help decide if the woman should be referred for further assessment or recalled again for routine screening in another 3 or 5 years' time.
BD Onclarity HPV test with SurePath samples performed on the BD Viper LT System.
Cepheid Xpert HPV assay with ThinPrep samples performed on the Cepheid GeneXpert Dx System or GeneXpert Infinity System.
You can find details of all HPV tests currently approved for use in the NHS CSP on GOV.UK.
New guidance for laboratories providing HPV testing
The NHSCSP has also published guidance for laboratories that provide HPV testing in the programme.
This document:
provides guidance on internal quality control and quality assessment procedures relevant to HPV testing
was developed in response to queries and feedback from labs and local screening providers
aims to standardise practice in this area
reflects the standards implicit in ISO15189:2012
PHE Screening blogs
PHE Screening BLOGs provide up to date news from all NHS screening programmes – replacing our previously published newsletters.
You can register to receive updates direct to your inbox, so there's no need to keep checking for new blogs.