The NHS Cervical Screening Programme in England relies on laboratories to screen and report on cervical cytology samples (3.2 million were examined in 2014-15).
This workload is carried out in 59 laboratories across England. Many of these cytology samples also generate a second test – for human papilloma virus (HPV) – which is the causative agent in most, if not all, cervical cancers.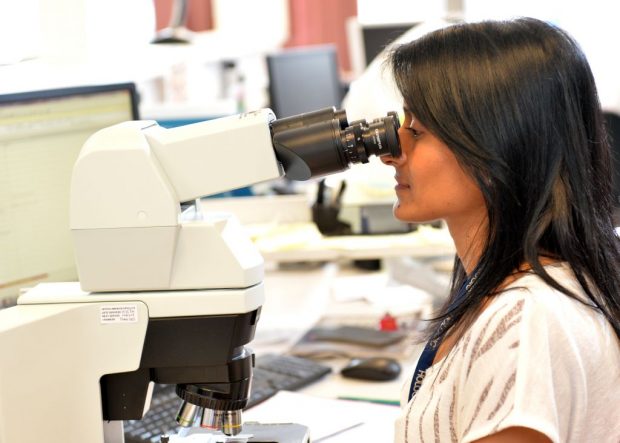 Examining cervical samples in the laboratory
The UK National Screening Committee (UK NSC) has recommended moving to a primary HPV test with reflex cytology on positive samples, which will be implemented in England during 2019.
Many laboratories are currently having trouble meeting the demand and helping achieve the national targets for reporting cytology, although many other factors can also affect this.
Public Health England (PHE) announced recently that it will help by finding out if those laboratories that are pilots of the HPV primary screening test approach (which is the model to be implemented) have the capacity to help other NHS laboratories. This is seen as a temporary measure while we work up plans for the full roll out of primary HPV screening.
Ruth Stubbs, NHS Cervical Screening Programme Manager, said:
Implementing HPV as a primary screening test is highly complex and there are a number of variables that need to be considered. While we recognise that some providers will be keen to understand more about how they can bid to become a provider of HPV as a primary test as part of the national roll out, there is much work still to do to ensure that implementation is safe, effective, and compliant with EU procurement rules.

A full implementation plan has not yet been agreed. However, PHE and NHS England will continue to work in collaboration with clinical experts in the field. We are fully committed to working with the laboratory community and we look forward to continuing to receive clinical input and advice. We appreciate that this is an unsettling time for all, particularly the cytology workforce.
This work is ongoing. We will  keep all those involved up to date as soon as more information is available via the PHE Screening blog and more formal routes.
PHE Screening blogs
PHE Screening BLOGs provide up to date news from all NHS screening programmes – replacing our previously published newsletters.
You can register to receive updates direct to your inbox, so there's no need to keep checking for new blogs.