Over the past few months, we've consulted widely with clinical, laboratory and quality assurance colleagues to help revise the newborn blood spot screening standards.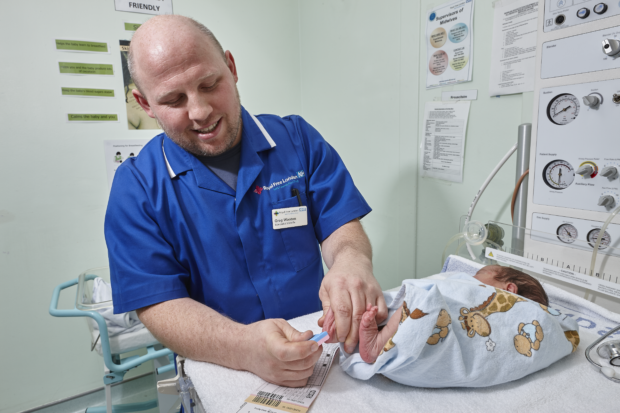 These standards aim to help trusts and commissioners provide safe and effective screening. They should also help improve quality and consistency by making sure providers work to the same common pathway, use the same definitions and the same comparable information.
Newborn blood spot screening – also known as the heel prick test – finds babies who have one of 9 rare but serious health conditions. Early treatment can improve health, prevent severe disability and save lives.
The revised standards reflect recent changes to the programme, including the 4 metabolic conditions added in January 2015:
maple syrup urine disease
isovaleric acidaemia
glutaric aciduria type 1
homocystinuria
The standards measure important points in the screening journey, including coverage, timeliness of sample, collection, quality of sample, timeliness of referral and timeliness of treatment.
Most national standards have an:
acceptable threshold – the lowest level of performance providers are expected to attain to ensure a safe and effective programme
achievable threshold – the level providers should aspire towards attaining and maintaining performance at
Important changes to the standards include:
revised definitions to make them more robust and valid
new reporting deadline for labs – 15 July
focus on use of barcoded NHS number labels
measure timely sample collection on day 5 only
We have revised the thresholds for some standards. For example, we have increased the achievable threshold for the rate of avoidable repeat blood spot tests due to sample quality from 0.5% to 1%.
In addition, we have introduced a new standard (standard 12b). This measures the timely reporting of 'normal' screening results to parents who have moved into an area.
The revised standards will come into effect from 1 April 2017, replacing the previous newborn blood spot screening standards published in August 2013. Both can be found on GOV.UK along with a summary of the responses to the consultation.
Annual data will be collected against the revised standards from April 2018.
PHE Screening blogs

PHE Screening blogs provide up to date news from all NHS screening programmes – replacing our previously published newsletters.
You can register to receive updates direct to your inbox, so there's no need to keep checking for new blogs.