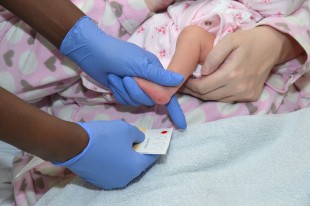 Newborn blood spot screening is a recommended routine part of the screening pathway for babies in England. The NHS Newborn Blood Spot Screening Programme (also known as the heel prick test) screens newborn babies for 9 rare but serious conditions. Babies who test positive for one of the nine conditions can then be treated early, improving their health and, in some cases, preventing severe disability or even death.
A midwife usually takes the blood samples in the home when the baby is 5 days old and posts the samples to an allocated screening lab.
Between April 2014 and March 2015, 4% of all blood spot samples in England took 5 or more working days to arrive at a screening lab. That's more than 27,500 samples.
The risks of any transport delay include:
late referral of serious conditions
delayed treatment of potentially life-threatening symptoms
Between December 2014 and February 2015, Taunton maternity services in the South West did a trial to improve blood spot sample transport time.
Postal sacks were placed in participating community hospitals and GP surgeries. Community midwives dropped their samples off in one of these sacks. The postal sacks were collected daily and sent to Musgrove Park Hospital post room. Hospital transport would then send the samples to the screening laboratory specimen reception (located in Southmead hospital).
Taunton maternity services very quickly saw a positive impact on reducing the number of blood samples arriving late (flagged on failsafe). See table below.
| | |
| --- | --- |
| Month | Number of babies  outstanding between 12 days from sample being taken  (red babies on the NBS failsafe) |
| November 2014 | 16 |
| December 2014 | 16 |
| January 2015 | 14 |
| February 2015 | 5 |
| March 2015 | 4 |
| April 2015 | 0 |
93% of samples arrived within 4 working days in the last financial year (April 2015 to March 2016). This was a huge achievement for Taunton maternity services.
Julie Austin-Thompson, Antenatal & Newborn Screening Coordinator and Project Lead at Taunton said.
I will be able to reinforce to the staff how vital they have been from the transport drivers and the post room staff at Musgrove Park Hospital, to the health professionals taking the samples in a timely fashion and the screening staff monitoring the process. All individuals have had an important impact in this to make it a success.
In March 2015, following the success of this trial, postal sacks were introduced in Chard, Glastonbury, Wells, Highbridge and Minehead.
There were several meetings with drivers and transport managers to raise awareness about the importance of blood spot samples. This combined effort to transform transportation of samples was essential to their success.
We would like to thank Taunton maternity services for sharing their experience with the NBS programme and hope other maternity services will benefit from the shared learning.
PHE Screening blogs
PHE Screening BLOGs provide up to date news from all NHS screening programmes – replacing our previously published newsletters.
You can register to receive updates direct to your inbox, so there's no need to keep checking for new blogs.