The UK National Screening Committee (UK NSC) makes recommendations on all aspects of population screening. We make recommendations on more than 100 conditions, including recommendations to screen for more than 30.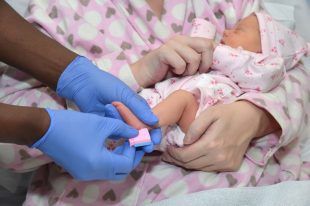 We review all recommendations regularly and try to do this on a 3-yearly basis. Now, we are piloting a new approach for reviewing existing screening programmes.
This started yesterday with consultations opening on 5 of the conditions covered by the NHS Newborn Blood Spot Screening Programme:
Newborn blood spot screening, also known as the heel prick test, is offered to every baby, ideally when they are 5 days old.
The UK NSC looks carefully at the evidence before making recommendations, but we're always looking to improve what we do.
Our new approach to reviewing recommendations for an existing screening programme starts with a rigorous search for any peer-reviewed literature that discusses:
the possibility of stopping a screening programme
any potential harms of screening
For example, over time, interventions other than screening can become a more effective means of preventing disease.
The aim is to identify red flags in published literature that suggest we should consider stopping a programme. If no such papers are identified in the literature search then the UK NSC would recommend the screening programme continues.
We welcome comments on the conditions covered in the reviews and also on this new approach to reviewing the evidence for ongoing screening programmes.
The current consultation will be hosted on the UK NSC website for 3 months and anyone can participate.
PHE Screening blogs
PHE Screening BLOGs provide up to date news from all NHS screening programmes – replacing our previously published newsletters.
You can register to receive updates direct to your inbox, so there's no need to keep checking for new blogs.