The 2015 to 2016 screening year – 1 April 2015 to 31 March 2016 – was particularly exciting and productive for the UK National Screening Committee (UK NSC).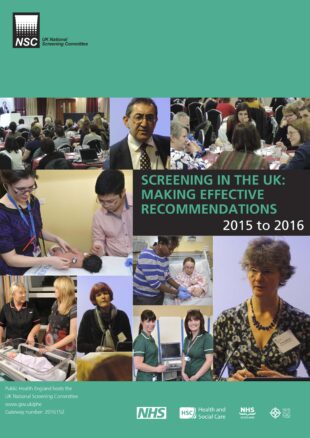 This week we published our annual evidence report Screening in the UK: making effective recommendations 2015 to 2016.
It summarises the recommendations we made during the year and the evidence behind those recommendations.
We reviewed a huge volume and range of topics during the year. And it was particularly pleasing that we were able to make so many positive recommendations, including:
rollout and evaluation of the use of non-invasive prenatal testing (NIPT) as an additional test for Down's, Patau's and Edwards' syndromes in the current NHS Fetal Anomaly Screening Programme in England
a change to the NHS Bowel Cancer Screening Programme – the use of the faecal immunochemical test (FIT) as the primary test for bowel cancer screening should replace the guaiac feacal occult blood test (FOBt)
a change to the NHS Cervical Screening Programme – human papillomavirus (HPV) testing as primary screening for cervical disease
a change to the NHS Diabetic Eye Screening Programme – increasing the interval between screening tests for people with diabetes at low risk of sight loss from 1 year to 2 years
The report also enables us to welcome incoming UK NSC Chair Professor Bob Steele and say farewell to outgoing chair Professor David Walker.
I'd thoroughly recommend giving it a read. It puts all the work we do into context and emphasises the importance of robust evidence for any population-based screening programme.
I'd like to take this opportunity to thank David, the secretariat, stakeholders and academics for all their hard work and support. Without them, we wouldn't have been able to complete this astonishing amount of high quality work.
And there is no let-up in any of that work. This September we will be piloting our first annual call for topics to review. And we're already starting to plan for the UK NSC's second annual stakeholder conference in December.
PHE Screening blogs
PHE Screening blogs provide up to date news from all NHS screening programmes – replacing our previously published newsletters.
You can register to receive updates direct to your inbox, so there's no need to keep checking for new blogs.