The Eklund technique is an internationally recognised method to improve the detection of breast cancer in women with breast implants. It is already used in services in Australia, the USA and some other countries to promote high quality breast screening and we are now implementing it in England.
Breast screening aims to reduce breast cancer deaths by routinely screening women between the ages of 50 and 70 to find disease at any early stage.
Mammography is the gold standard for breast cancer imaging and the most accurate method of detecting breast cancer early. However, implants can interfere with the imaging of the breast if the implant obscures underlying breast tissue.
The national service specification for the NHS Breast Screening Programme now states that the Eklund technique should be offered to all women with breast implants.
We have today published new guidance on screening women with implants. The Eklund technique will be offered as an additional image to routine mammography to improve breast tissue visualisation. This may lead to improved cancer detection rates for these women.
How the technique works
The radiographer should give a clear explanation of the technique and gain signed consent from the woman for the additional image.
The breast tissue is eased forward away from the implant so that the breast tissue can be seen in more detail.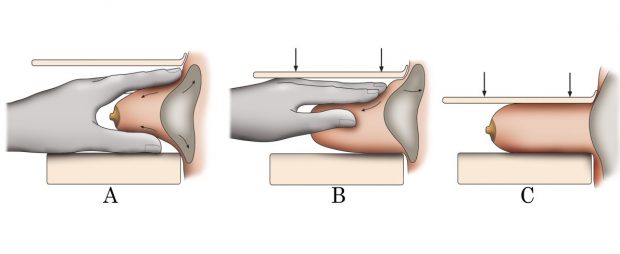 A: Breast tissue is eased forward and away from the implant.
B: As the implant is displaced backwards, more compression is possible.
C: With the implant excluded, optimum compression of breast tissue is possible and more breast tissue is demonstrated in greater detail to aid image interpretation.
PHE Screening blog
PHE Screening BLOG articles provide up to date news from all NHS screening programmes – replacing our previously published newsletters.
You can register to receive updates direct to your inbox, so there's no need to keep checking for new blog articles.