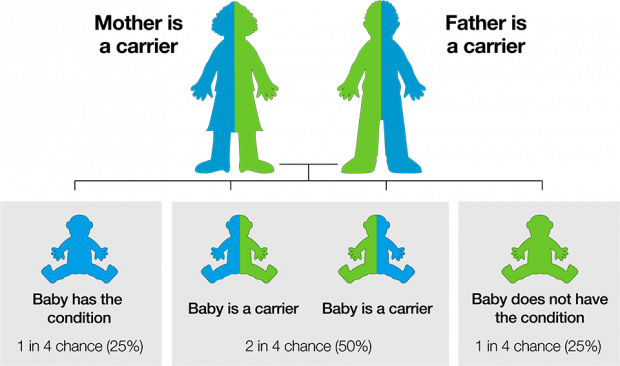 We have blogged frequently in recent months about a wide range of NHS Sickle Cell and Thalassaemia (SCT) Screening Programme information that is now digital.
Following requests from healthcare professionals, we have added a new publication to the suite of information resources for SCT carriers. This is a new digital leaflet for women and/or couples who have had genetic testing that confirms alpha zero thalassaemia carrier status.
According to annual report figures, 715 pregnant women were confirmed carriers of alpha zero thalassaemia between 1 April 2018 and 31 March 2019. In 17 of these cases the baby's biological father was also confirmed as a carrier.
When both biological parents are carriers there is a 1 in 4 (25%) chance that the baby can inherit alpha thalassaemia major. This condition causes severe anaemia in the baby, resulting in restricted growth and miscarriage or stillbirth. There are also health implications for the woman during pregnancy.
The information in the new digital leaflet supports conversations parents have with health care professionals so they can make personal informed choices.
It explains:
how being a carrier can affect an individual and their family
what an alpha zero thalassaemia carrier is
the condition a carrier's baby could inherit
genetic inheritance of haemoglobin disorders
what the result means for other people in the family
Feedback about this new leaflet is welcome via the PHE screening helpdesk.
PHE Screening blog
The PHE Screening blog provides up to date news from all NHS screening programmes. You can register to receive updates direct to your inbox, so there's no need to keep checking for new blogs. If you have any questions about this blog article, or about population screening in England, please contact the PHE screening helpdesk.