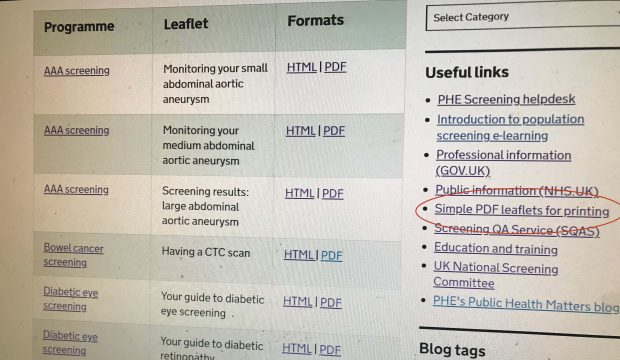 We have blogged extensively about transitioning national NHS screening information for the public from printed to digital format.
Local NHS abdominal aortic aneurysm (AAA) screening providers still send printed invitation leaflets with all screening invitations. And local NHS diabetic eye screening (DES) providers continue to send printed invitation leaflets with invitations to anyone who is newly registered with diabetes.
In all other circumstances, providers should now be routinely signposting to digital versions of AAA screening and DES public information materials.
These digital information pages are:
We have provided a range of information, resources and support for local screening providers to use when directing people to digital information.
Making sure no one is disadvantaged
There are many benefits to digital information but we must still make sure that anyone who cannot access information online is not disadvantaged. That is why we have provided guidance on how to print digital leaflets. for people requesting a physical copy.
However, we know that some people do not find GOV.UK printouts very easy to read and use, so we are now creating plain A4 printable PDF versions of the most commonly used public screening information.
We have published printable versions of the 4 DES public information resources and the 3 AAA screen positive leaflets on a new public information leaflets page of the blog.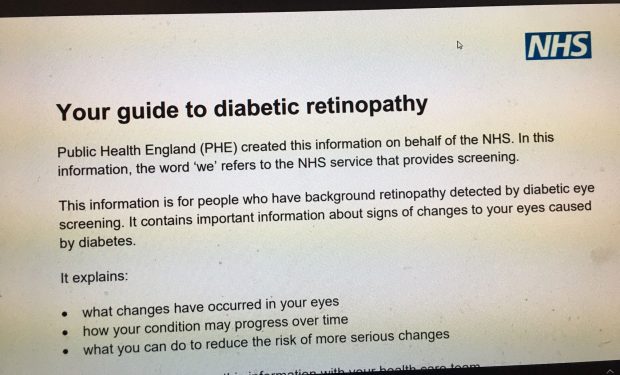 PHE Screening blog
The PHE Screening blog provides up to date news from all NHS screening programmes. You can register to receive updates direct to your inbox, so there's no need to keep checking for new blogs. If you have any questions about this blog article, or about population screening in England, please contact the PHE screening helpdesk.