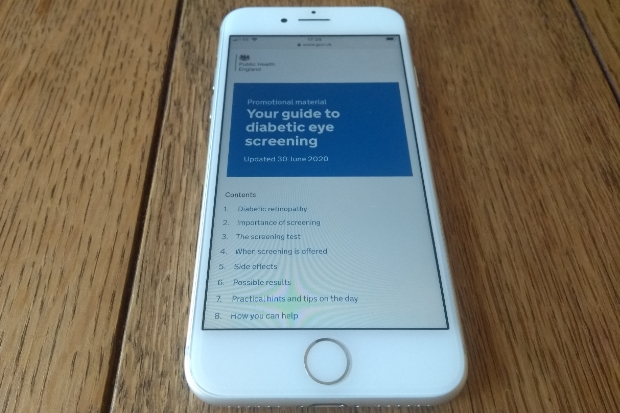 Last month we blogged about updated diabetic eye screening (DES) invitation and result letter templates.
These new templates include web links and QR codes signposting people to more information online about DES and are designed to help reduce the use of printed leaflets.
Where possible, local DES services should now be using the updated templates and should only enclose the printed Your guide to diabetic eye screening leaflet with prevalent invitations. Printed leaflets should not be included with incident invitations.
Screening services should also now direct people to the digital versions of 3 other DES and retinopathy leaflets. These are:
Services can also encourage people to save a link to the digital version of any leaflet to the home screen of their mobile phone.
Resources for local services
We have developed a new A4 poster for local DES services to display.
The poster, pictured below, includes:
QR codes and web links signposting people to the digital versions of DES leaflets
guidance on saving digital leaflets to smartphone home screens
Local DES services can print out, laminate and display this poster at screening and referral clinics to help signpost people to the digital information relevant to them.
There will also be a small national print run of this poster so local DES services can order them from national print provider APS Ltd. We will inform services by national email message when these become available.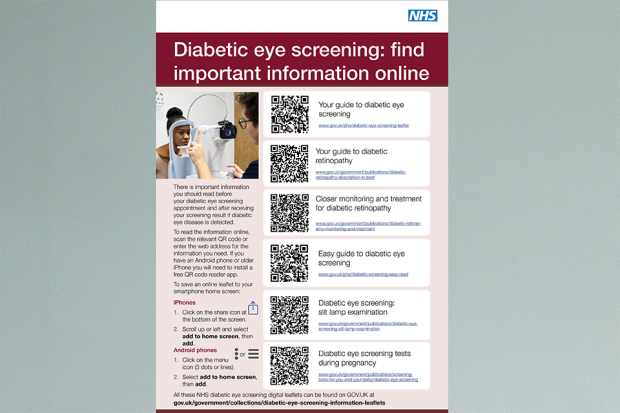 There'll be some situations when people still need a printed leaflet, whether that's because they do not have a mobile phone, struggle with technology or another reason.
In these situations, services should use up existing supplies of the 3 leaflets listed above. They can also order printed copies of these leaflets from the national print provider, APS, until stocks run out.
Once stock runs out, services will be able to print out HTML versions of the leaflets from GOV.UK for those who need them.
See How to print digital leaflets.
Any services that would like to help the DES national team look at resources and support to help with the move from print to digital can contact us via the screening helpdesk.
PHE Screening blog
The PHE Screening blog provides up to date news from all NHS screening programmes. You can register to receive updates direct to your inbox, so there's no need to keep checking for new blogs. If you have any questions about this blog article, or about population screening in England, please contact the PHE screening helpdesk.