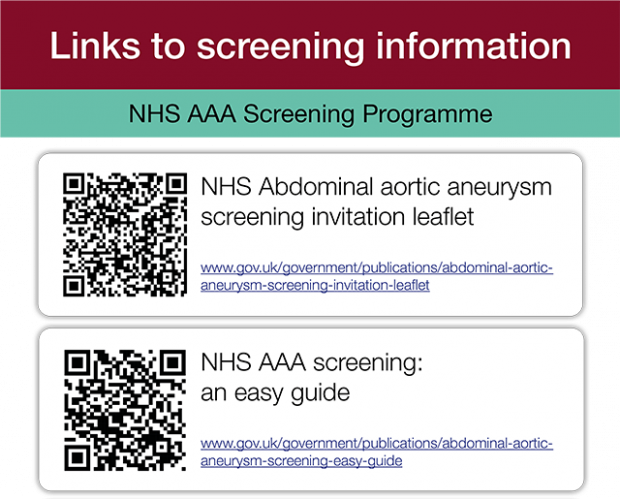 We have blogged before about the need to reduce the use of printed leaflets by NHS screening services and make the most of digital information opportunities.
PHE has been producing more and more online information about the NHS screening programmes and supporting local services in making the transition from printed to digital resources.
Local NHS abdominal aortic aneurysm (AAA) screening services should:
continue to send out printed leaflets with screening invitations to men in their 65th year
start to phase out the use of the screen-positive result printed leaflets for men who have an AAA detected by screening
Three different hard copy leaflets are provided for men found to have a small AAA (3.0 to 4.4cm wide), medium AAA (4.5 to 5.4cm) or large AAA (5.5cm or larger).
Services can continue to use up existing local supplies of these 3 leaflets and order from national print provider APS Ltd until national stocks run out.
However, we are encouraging services to start signposting men to the digital versions of these leaflets as well as, or instead of, providing a hard copy.
Poster resource available for signposting
We have produced an AAA screening information quick links A4 poster (see above) for services to download, print and laminate. It has links and QR codes that men can scan on their smartphones to access the relevant information online and save the link for future reference.
QR codes provide quick access to websites without having to type or remember a web address. Simple QR code user guidance can be found online for iPhone and Android smartphone users.
Once national printed stocks of the 3 leaflets have run out, local services will need to make sure that men who do not have internet access still receive the information they need. Services can do this by printing out copies of the HTML web page version of the appropriate leaflet on GOV.UK by:
going to the relevant page
selecting the print option (pressing Ctrl+P will open this)
choosing any appropriate options such as duplex (double-sided) printing and pressing print
When printing an HTML document, services may want to omit printing pages 1 (index) and 2 (open government licence information). Any hyperlinks in the HTML document are written out in full in the printout.
Thank you for your help in implementing this change.
PHE Screening blog
The PHE Screening blog provides up to date news from all NHS screening programmes. You can register to receive updates direct to your inbox, so there's no need to keep checking for new blogs. If you have any questions about this blog article, or about population screening in England, please contact the PHE screening helpdesk.