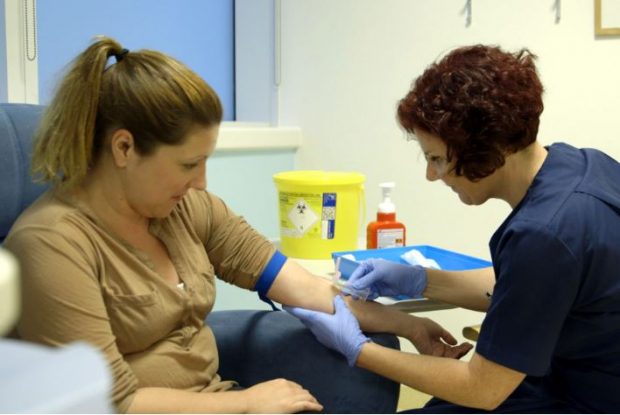 In 2016 the UK National Screening Committee (UK NSC) recommended introducing non-invasive prenatal testing (NIPT) into the existing screening pathway for Down's syndrome, Edwards' syndrome and Patau's syndrome as part of the NHS Fetal Anomaly Screening Programme (FASP). The recommendations were updated in 2019.
NIPT will be an additional option for women who have a higher chance ('1 in 2' to '1 in 150') of having a baby with one of these conditions following combined or quadruple screening in single and twin pregnancies.
NIPT will be introduced as an 'evaluative roll out'. This means we will be able to monitor how the introduction of NIPT is working at each stage of the roll out and make any changes to the pathway and screening processes quickly and effectively. The UK NSC will be kept informed about progress with the evaluation.
Formal procurement process
Public Health England (PHE), with the support of NHS Arden and GEM Commissioning Support Unit (CSU), will be engaging with genomic laboratory hubs (GLHs) and other interested parties.
This will be the first step in a formal procurement process for laboratories wishing to provide NIPT screening as part of the NHS FASP pathway.
Proposed timeline
The proposed timeline for the procurement process is outlined below.
Market engagement (talking to NIPT providers): August 2020.
Procurement process confirmed: late August 2020.
Procurement process undertaken: September to November 2020.
Procurement process outcome published: December 2020.
Service mobilisation (time for laboratories and maternity providers to prepare to start offering NIPT): January to March 2021.
These dates are dependent on the ongoing COVID-19 response and the ability of the NHS to respond to the anticipated tender process.
Further updates
We will post further updates on the procurement process via the PHE Screening blog, so keep an eye out in the coming weeks.
We will also provide an updated training and information package on Health Education England's e-Learning for Healthcare website around Autumn 2020. So, if your staff did not attend or access the NIPT cascade package, perhaps now is the time to start thinking how this can be arranged.
NIPT champions
We will be offering NIPT champions a workshop session soon to go through the practical arrangements for managing the offer of NIPT. This will be held with the NHS FASP team and representatives of the laboratories which were successful in the bid process.
More information on when and how we will offer these sessions will follow in the next few months.
PHE Screening blog
The PHE Screening blog provides up to date news from all NHS screening programmes. You can register to receive updates direct to your inbox, so there's no need to keep checking for new blogs. If you have any questions about this blog article, or about population screening in England, please contact the PHE screening helpdesk.