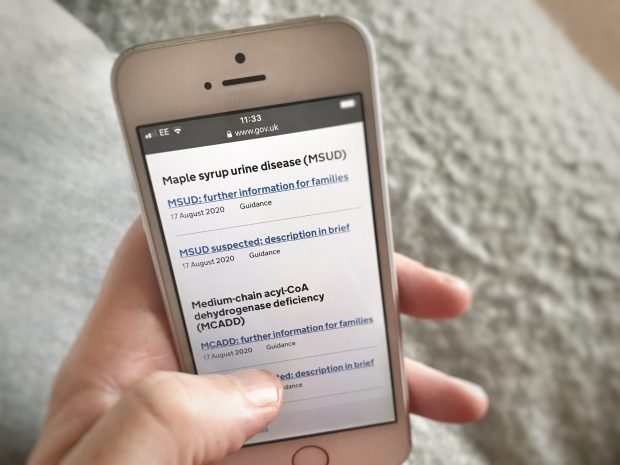 Newborn blood spot (NBS) screening involves a heel-prick test that is carried out when babies are 5 days old.
The screening sample is tested for 9 rare but serious conditions, including 6 inherited metabolic diseases (IMDs). Babies with an IMD may have problems processing amino acids (the building blocks of proteins) or breaking down fats quickly enough to produce energy.
The 6 IMDs screened for in England are:
Glutaric aciduria type 1 (GA1)
Homocystinuria (HCU)
Isovaleric acidaemia (IVA)
Medium chain acyl-CoA dehydrogenase deficiency (MCADD)
Maple syrup urine disease (MSUD)
Phenylketonuria (PKU)
IMD screening leaflets
For all NBS conditions, including the IMDs, patient information leaflets are available to support parents throughout the screening and diagnosis pathway.
Each condition has a 'suspected' leaflet. These provide a clear and simple overview of the condition and outline what parents can expect following a suspected screening result.
Each condition also has a 'further information' leaflet. These leaflets provide more detailed information about the condition and aim to support parents following a confirmed diagnosis.
There is also a third leaflet for IVA, which explains the mild variant of IVA that some children develop.
Bye bye PDF, hello HTML
PHE Screening is in the process of updating all of its NBS screening resources so that they meet new accessibility guidelines. Part of this is to convert existing PDFs, like the IMD leaflets, into webpage format (HTML).
HTML documents have many benefits. They are:
more accessible
better for reading on smaller screens (like mobile phones)
easier to find, as all their text is searchable from an internet search engine
Being more accessible means that HTML documents:
What has changed
The content of the leaflets has not been updated at this stage. We will be carrying out a review of the content in due course and will keep you updated via future blog posts.
PHE Screening blog
The PHE Screening blog provides up to date news from all NHS screening programmes. You can register to receive updates direct to your inbox, so there's no need to keep checking for new blogs. If you have any questions about this blog article, or about population screening in England, please contact the PHE screening helpdesk.