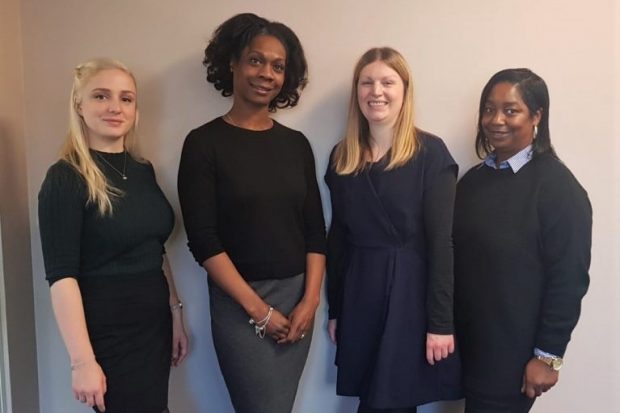 We welcomed a new face to the PHE Screening helpdesk in August.
Stephanie Waldheim joined the Information and Education for Public and Professionals (IEPP) team as a screening helpdesk advisor. She comes with a clinical background as a surgical nurse, most recently working at University College London Hospitals NHS Foundation Trust.
We wanted to remind you – we're here to help!
We've been working hard as ever to answer screening-related queries for members of the public and professionals.
What we do
We aim to:
provide a good quality service
resolve issues in a quick, efficient and effective way
resolve enquiries within agreed timescales
have consistent approaches to dealing with enquiries
track and escalate enquiries
generate and evaluate intelligence through regular reporting – to inform and make improvements if required
And we answer queries relating to:
screening practice and guidance (for England only)
antenatal programmes: fetal anomaly, infectious diseases in pregnancy, sickle cell and thalassaemia
newborn programmes: newborn blood spot, newborn hearing, newborn and infant physical examination
cancer programmes: bowel, breast, cervical
young person and adult non-cancer programmes: abdominal aortic aneurysm, diabetic eye
cross-programme topics: data and key performance indicators, education and training, evidence, guidance, publications and information
What we do not do
Here's a quick reminder of what we cannot help you with:
accessing screening results – the helpdesk and national programmes do not have access to or provide screening results
making screening appointments – the helpdesk cannot make screening appointments for anyone
questions about symptoms – you should speak to your GP if you have any concerns about your health or need to ask about a family history of cancer
contact details – the helpdesk cannot provide contact details of individual members of staff
confidential information – please do not send or provide any sensitive, confidential or patient identifiable information to the helpdesk
Screening results remains the most common category of query we receive. In the last 2 years, we've received almost 1,500 enquiries about screening results, which fall outside our remit.
Visit our page to learn how to access screening results for each programme.
Putting data to good use
As well as helping answer thousands of queries, we also gather data and statistics in our screening helpdesk reports.
We analyse the most common queries which helps us to see where there are issues that should be addressed. The screening teams then use this information to improve the service.
For example, the publications and information team has used our findings to improve information in leaflets, making them more aligned to what people want and need.
The data has been used to:
So if you have any questions or suggestions you have been sitting on, please do get in touch - it helps us to understand what needs to change!
PHE Screening blogs provide up to date news from all NHS screening programmes. You can register to receive updates direct to your inbox, so there's no need to keep checking for new blogs. If you have any questions about this blog article, or about population screening in England, please contact the PHE screening helpdesk.