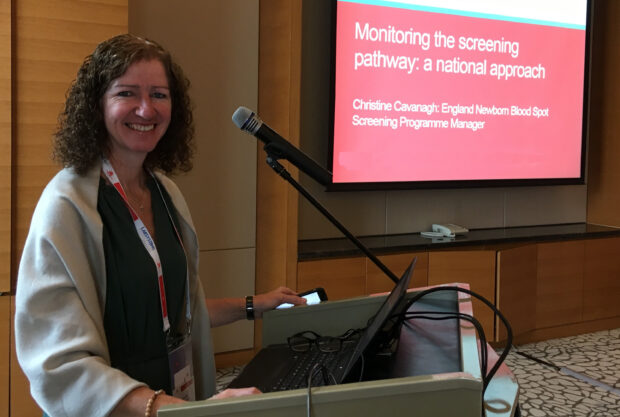 Members of the newborn blood spot (NBS) screening programme team had an exciting opportunity to present at a screening conference in Hangzhou in China.
In this post, NBS programme manager Christine Cavanagh talks about her recent trip.
China's newborn screening
Our laboratory lead Jim Bonham and I made the long journey to the 10th International Society for Neonatal Screening (ISNS) International Symposium to learn more about screening in China and to share updates and lessons from our programme.
The ISNS has around 470 members from more than 80 countries, and it was fascinating to learn about NBS screening around the world.
In China, screening has developed rapidly in the last 35 years and coverage reached 97.5% in 2017.
China has a birth rate of 17 million per year compared to just over 650,000 in England, so I don't think I'd like to be NBS programme manager in China!
Learning from others
The conference theme was 'Screening pathways through China, the Asia Pacific region, the world'.
We presented on the importance of:
developing NBS standards to monitor the screening pathway
learning from incidents to improve screening practice
We heard some fascinating talks on current worldwide screening, screening for specific conditions, programme quality and the future of newborn screening.
Special honour for Jim
Jim had been elected by ISNS members to be the next society president, and took up office at the Annual General Meeting during the conference – a great honour.
The UK is held in high regard by our global colleagues and respected for the rigour and governance that we apply when implementing new conditions.
Although it was a whistle-stop visit, we learned a good deal. Not only that, but we also got to experience a taste of the local cuisine that at times seemed not dissimilar to a bushtucker trial!
PHE Screening blogs provide up to date news from all NHS screening programmes. You can register to receive updates direct to your inbox, so there's no need to keep checking for new blogs. If you have any questions about this blog article, or about population screening in England, please contact the PHE screening helpdesk.