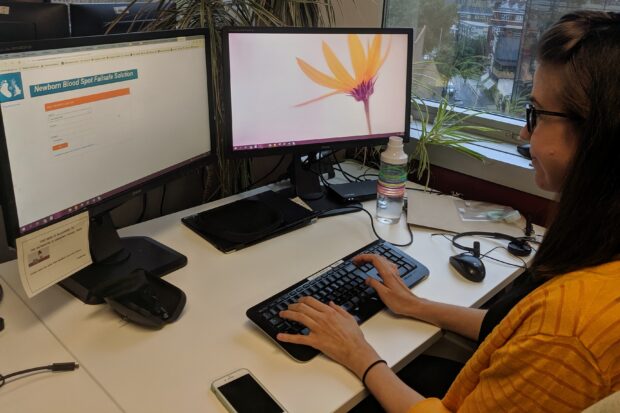 The newborn blood spot failsafe solution (NBSFS) is the IT system maternity units use to make sure they never miss offering newborn blood spot screening for babies they are responsible for.
We are always looking for ways to make the system better and we are delighted to announce that some fantastic new features have been developed and will be available from Monday 7 October 2019.
Manage site users locally
It will now be possible to add new users without having to request their set up via the helpdesk. Site leads just need to contact the helpdesk once to be given the permissions to add new users.
Designated child health sites
Child health (CH) sites now have site names in the NBSFS. CH users will now be able to filter records to match their area of responsibility.
All CH users will automatically get new user IDs. They will receive a message confirming how to access the failsafe with their new user IDs. CH site leads will automatically be given permissions for the new function to manage site users locally.
Create records for babies born in Wales
The system now identifies babies born in Wales to English residents on the Welsh failsafe site and creates a record for them in the NBSFS. The GP code or post code is used to map the record to an NBSFS maternity site. If this is unsuccessful, a manual process will be used.
Fixing 'print NHS labels'
We are working to fix this function, which was added in the last update. Users will be alerted via the NBSFS messaging system when this function is working correctly.
Help us to keep improving
The number of NBSFS users is ever growing, so we are very grateful to everyone who has helped with developing and testing these updates.
If you would like to help us with testing the system, please get in touch via the NBSFS helpdesk.
For further information about NBSFS, keep an eye out for future blogs or get in touch with the NBS programme.
PHE Screening blogs
PHE Screening blogs provide up to date news from all NHS screening programmes. You can register to receive updates direct to your inbox, so there's no need to keep checking for new blogs. If you have any questions about this blog article, or about population screening in England, please contact the PHE screening helpdesk.