Cervical screening prevents cancer by detecting abnormalities of the cervix and referring women for potential treatment.
We rely on 50 laboratories across England to report on cervical cytology (sometimes called smear test) samples.
Some laboratories have been having trouble meeting demand and achieving the national target of women receiving their results within 14 days.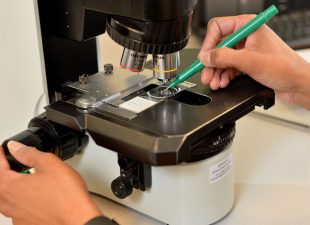 PHE Screening has been working with NHS England over the past year on plans to reduce backlogs caused by this national shortage of cytology capacity.
These plans have included the generation of cytology screening capacity in existing human papillomavirus (HPV) primary screening pilot sites.
Further options to reduce backlogs have now been announced. To support options using primary HPV testing, PHE has published guidance for laboratories and local providers. This guidance, 'Short-term mitigation using primary HPV screening', can be downloaded from the link below.
Download national guidance on short-term mitigation
Short term mitigation has been replaced by NHS England's Resilience Plan, offering all cytology laboratories the opportunity to introduce primary HPV screening to help maintain the provision of a high quality service for women. Providers implementing primary HPV screening should now refer to the implementation guide for primary HPV screening.
The process for taking forward these mitigation options is as follows:
Local public health commissioning teams consider the current service provision and any risks to future sustainability.
Mitigation options are explored where necessary and agreed.
Where local public health commissioning teams decide to proceed with the option of introducing primary HPV screening for mitigation through a remedial action plan, they will work with local cervical screening providers to plan how this will be achieved in line with this guidance.
Public health commissioning teams will share plans with the Screening Quality Assurance Service (SQAS), which will agree whether the plans meet the quality requirements of the programme, including the need to maintain 35,000 primary cytology reports.
Plans, with SQAS support, will be considered at the joint NHS England/PHE mitigation prioritisation group for approval.
Public health commissioner teams will be informed by the central team of the decision and next steps.
This blog was updated on 14 March 2019 to replace the short-term mitigation guidance with the new implementation guide for primary HPV screening.
PHE Screening blogs
PHE Screening BLOGs provide up to date news from all NHS screening programmes. You can register to receive updates direct to your inbox, so there's no need to keep checking for new blogs.