Cervical screening saves an estimated 5,000 lives a year by detecting abnormalities of the cervix early and referring women for effective treatment.
The NHS offers cervical screening to all eligible women aged 25 to 49 every 3 years and to those aged 50 to 64 every 5 years.
Human papillomavirus (HPV) is a common virus transmitted through sexual contact. High risk sub-types of HPV (HR-HPV) are linked to the development of abnormal cells and can cause cervical cancer. HPV is a necessary cause of invasive cervical cancer.
Evidence shows HPV testing is a better way of identifying women at risk of cervical cancer than the cytology (smear) test that examines cells under a microscope.
Last year, after reviewing the evidence, the UK NSC recommended that the HPV test should replace cytology as the first (primary) test in cervical screening. This will be a major change for the NHS Cervical Screening Programme.
Nurses and doctors carry out cervical screening in primary care. So it's important that those of us working in primary care understand the reasons for the change and the implications of it.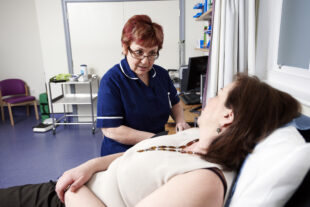 Benefits of primary HPV testing
Primary HR-HPV testing has higher sensitivity for high grade cervical intraepithelial neoplasia (CIN) than primary cytology. This means using primary HR-HPV testing to screen women will identify more women at risk of developing cervical cancer. And it will save more lives by determining a woman's risk earlier.
HR-HPV testing also has a lower false negative rate than cytology. This means women may not need to come for screening as often in the future. The UK National Screening Committee is currently considering the evidence for a possible extension of screening intervals.
Younger women vaccinated against HPV types 16/18 are now beginning to enter the screening programme. Primary HR-HPV testing is a more appropriate test for vaccinated women because the incidence of CIN will be lower. Cytology will be reserved for women considered to be at higher risk who test HR-HPV positive.
If HPV testing finds that a woman does not have high risk HPV then her chances of developing a cancer within 5 years are very small.
Implementation plan
Primary HR-HPV testing will be fully implemented in 2019. NHS England will commission services to implement the testing.
Six pilot sites in England are already using primary HR-HPV testing. Some of these sites are extending the amount of primary HR-HPV testing they are doing.
Implications for primary care
Sample takers play an important role in providing information to women about HPV.   Sample takers will need to complete training before starting primary HR-HPV testing.
Training materials used in the pilot sites are available on the national screening CPD website and an e-learning module is being developed.
HR-HPV testing is performed on liquid based cytology samples, so there will be no change to the way samples are taken. But there are new protocols for the management and follow-up of women according to the test results and any subsequent cytology performed.
Implementation of primary HR-HPV testing will coincide with centralisation of screening laboratory services. This means cervical screening samples may be sent to a different laboratory in future but providers of local colposcopy services will not change.
Cytology will continue to have a role and will be performed as a triage if HPV is detected (see pathway diagram above).
The introduction of HPV primary testing has major benefits for women. GPs and primary care will have an important role to play in its successful implementation over the coming years.
PHE Screening blog
PHE Screening BLOG articles provide up to date news from all NHS screening programmes – replacing our previously published newsletters.
You can register to receive updates direct to your inbox, so there's no need to keep checking for new blog articles.