Evidence shows that human papillomavirus (HPV) testing is a better way of identifying women at risk of cervical cancer than the cytology (smear) test that examines cells under a microscope.
Last year, after reviewing the evidence, the UK NSC recommended that the HPV test should replace cytology as the first stage in cervical screening.
This will be a major change for the NHS Cervical Screening Programme (NHSCSP). An HPV primary screening implementation group of PHE Screening and NHS England experts is developing plans for how to roll out HPV primary screening nationally in England.
On 10 January 2017 the implementation group hosted an options appraisal meeting to consider the possible models for implementing HPV primary screening across England.
The Royal College of Pathologists, the British Association for Cytopathology and the Institute of Biomedical Science supported and informed this group. Dr Karin Denton, Regional Head of the Screening Quality Assurance Service, led the options appraisal meeting and it was facilitated by Costello Consulting. Many thanks to everyone for their time and support with this piece of work.
The options appraisal considered 10 important objectives for each model (see diagram below).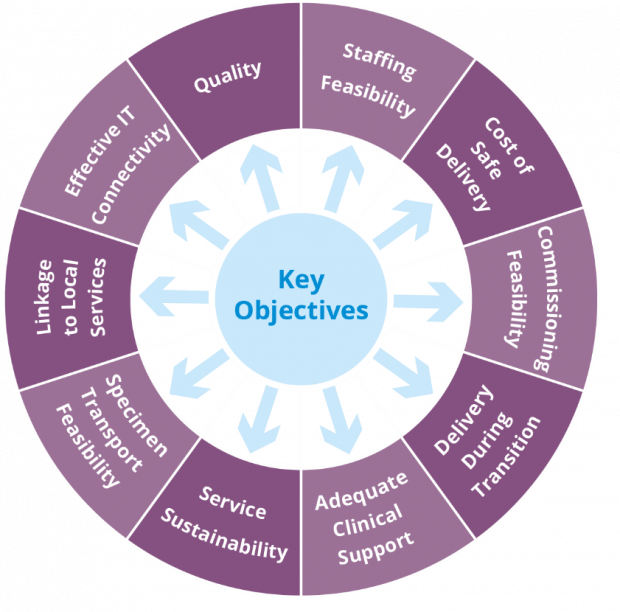 The options appraisal group previously met before Christmas to discuss and agree the relative importance of each of these 10 areas with stakeholders and agree how they should be weighted. The results of this discussion can be seen in the table below.
Quality and safety was weighted most important, reflecting the aim of screening to prevent as many cervical cancers as possible and maintain the highest standards.
Staffing capacity and maintaining a resilient service were also weighted highly along with effective IT connectivity and cost of safe delivery.
| | |
| --- | --- |
| Objective | Weight |
| Quality | 18 |
| Staffing feasibility | 15 |
| Effective IT connectivity | 15 |
| Cost of safe delivery | 15 |
| Linkage to local services | 10 |
| Delivery during transition | 6 |
| Adequate clinical support | 6 |
| Service sustainability | 6 |
| Specimen transport feasibility | 5 |
| Commissioning feasibility | 4 |
| Total | 100 |
The options appraisal group considered 6 options in total.
Many providers delivering HPV testing and cytology testing (aligns with current cervical screening model).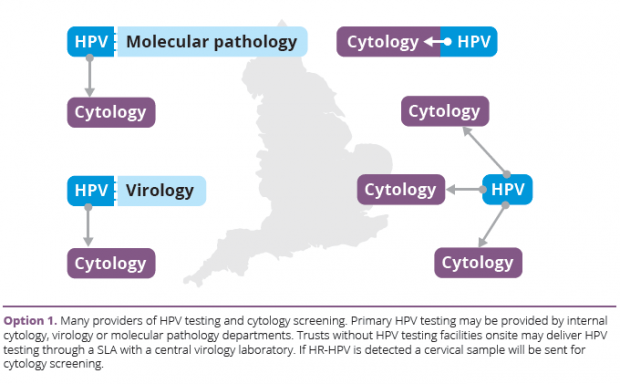 Centralisation of HPV testing with cytology testing from existing providers.

Centralisation of cytology testing with HPV testing by many, mainly local, providers.

Centralisation of HPV testing and cytology testing as a single seamless service, using:

a minimum number of 4 to 5 centralised services performing both HPV testing and cytology screening (option 4a)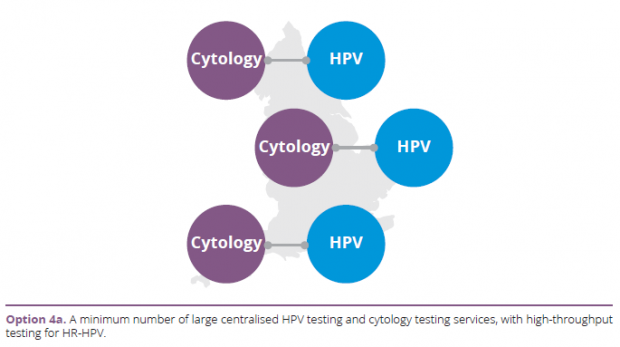 a maximum number of 10 to 15 centralised services performing both HPV testing and cytology screening (option 4b)

A network approach of many providers of HPV and cytology screening.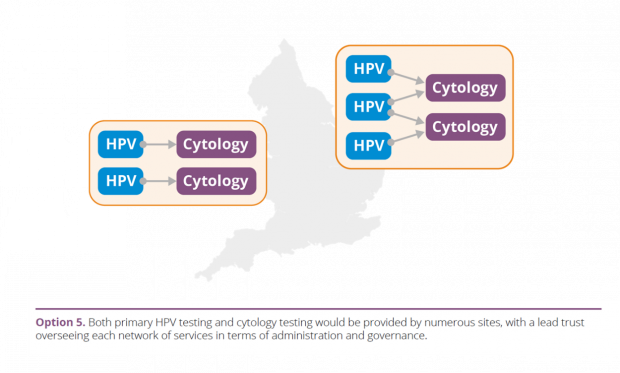 Recommendations
After evaluating and scoring each of the proposed option models, the options appraisal group identified centralisation of HPV testing and cytology testing as a single, seamless service as the recommended model of delivery. 
Options 4b (using a maximum number of 10 to 15 centralised services) and option 4a (using a minimum of 4 to 5 centralised services) both scored highly in terms of quality and safety. These were the only options to score 'above the line' for acceptability, achieving a total weighted score of more than 1,000 points (50% of the maximum score possible). See table below.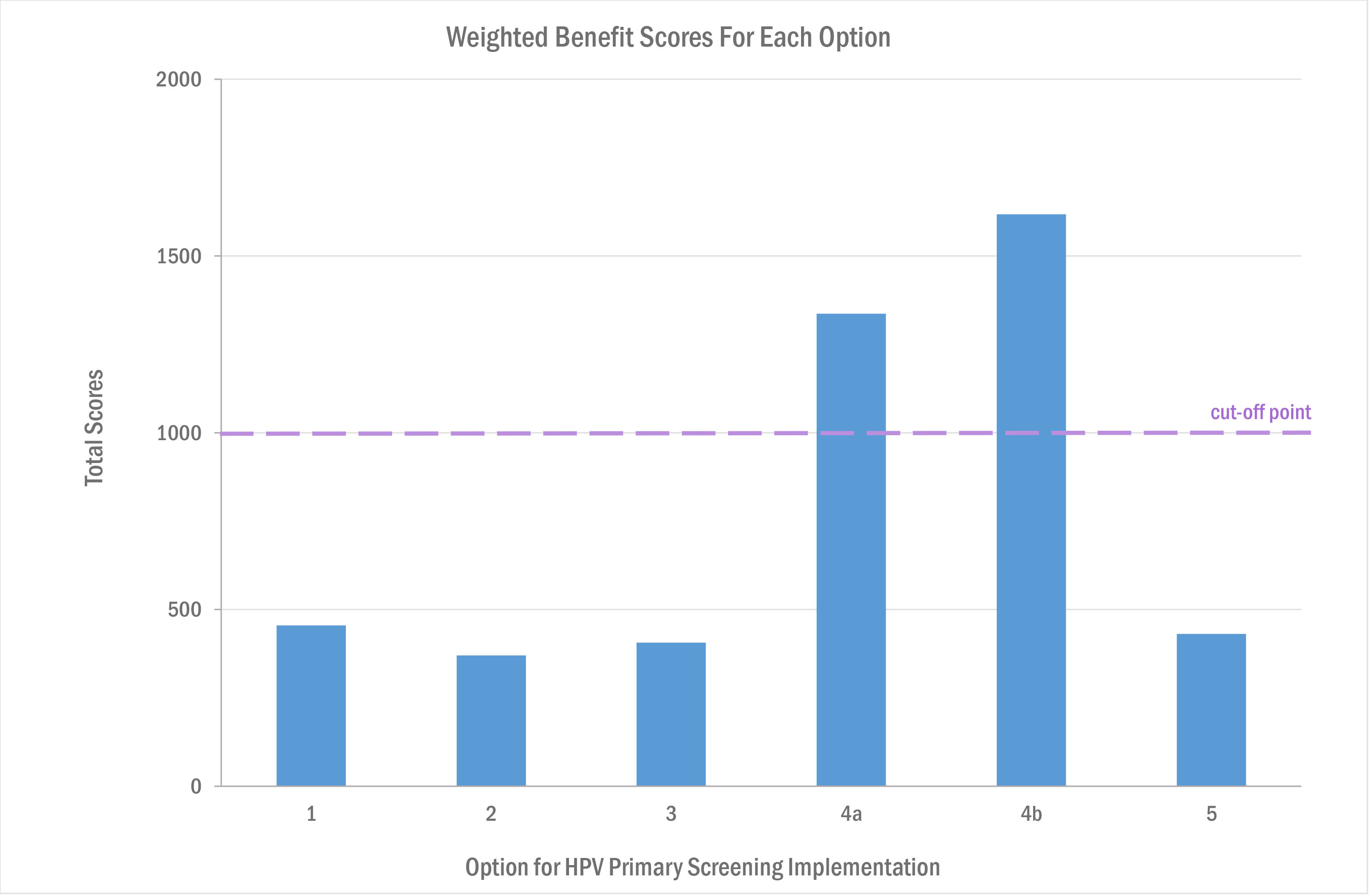 Next steps
NHS England, as commissioners of cervical screening, will now take forward work to make sure that the preferred options are deliverable.
This work will include assessing costs, procurement arrangements, due diligence, the implication of each option on existing services and appropriate sign-off processes. Timescales for this work will be shared once available.
Janet's new role
I'm pleased to be able to announce that Janet Rimmer has been appointed senior implementation lead for HPV primary screening.
Janet has extensive experience of working in cervical screening and will work with the NHSCSP team to take forward this work.
PHE Screening blogs
PHE Screening BLOGs provide up to date news from all NHS screening programmes – replacing our previously published newsletters.
You can register to receive updates direct to your inbox, so there's no need to keep checking for new blogs.