We're pleased to announce the publication of an updated version of the newborn laboratory handbook for the NHS Sickle Cell and Thalassaemia (SCT) Screening Programme.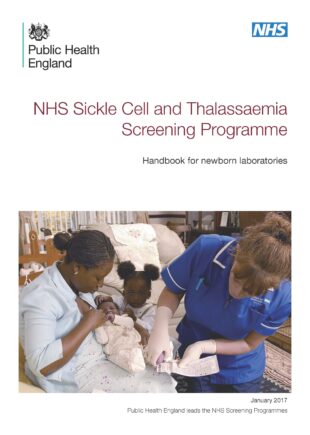 The SCT programme screens pregnant women to find out if they're at risk of having a baby with sickle cell disease or thalassaemia major, which are serious inherited blood conditions. This gives parents time to consider the options available.
The programme also screens newborn babies for sickle cell disease, helping to make sure babies get the best support and treatment from the very start.
What's changed?
To meet the needs of screening professionals and laboratories, we've divided the handbook into 2 separate publications – newborn and antenatal.
Dr Yvonne Daniel and Joan Henthorn, laboratory leads for the SCT programme, reviewed best practice to develop the newborn handbook.  They shared drafts with the UK Newborn Screening Laboratory Network and laboratory subgroup members for feedback.
There are 2 main revisions.
We've added tandem mass spectrometry as another laboratory method that can be used to screen for sickle cell disease in newborn babies using dried blood spot from a heel prick sample.
We've aligned with United Kingdom Accreditation Service (UKAS) requirements for laboratories to comply with ISO 15189. UKAS will look at both ISO 15189 standards and the screening requirements on behalf of the Screening Quality Assurance Service and the national screening programme.
The new streamlined version includes hyperlinks to PHE Screening information and external organisations. This means information which may be subject to change, such as contact details, standards and specifications, is always up to date.
We're now working on the antenatal handbook and expect to circulate it for comments later this year.
Purpose of the handbook
The newborn handbook is for laboratory staff who process samples from newborn babies. It:
describes policies and guidance
sets out recommendations that apply to laboratory processes, including reporting
We hope people find it useful and if you have any feedback please let us know by contacting our screening helpdesk
PHE Screening blog
PHE Screening BLOG articles provide up to date news from all NHS screening programmes – replacing our previously published newsletters.
You can register to receive updates direct to your inbox, so there's no need to keep checking for new blog articles.