The NHS Diabetic Eye Screening Programme is again joining forces with the Royal Society of Medicine (RSM) in April to hold the fourth national diabetic eye screening conference.

Screening helps prevent sight loss in people with diabetes by detecting diabetic retinopathy early, when treatment is effective at reducing or preventing damage from the condition.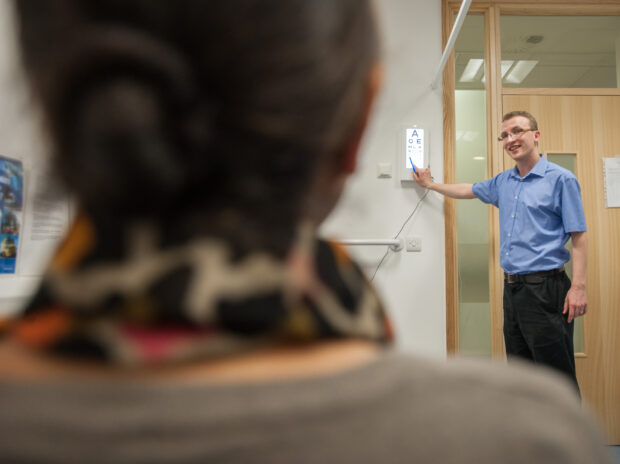 The national conference will provide an essential update to what's happening in diabetic eye screening in 2017.
It is aimed at anyone involved in providing diabetic eye screening: programme managers, clinical leads, screeners, graders, GPs, diabetologists, paediatricians, ophthalmologists, public health professionals, quality assurance professionals and commissioners.
So put the date in your diary now: Friday 21 April.
Professor Einar Stefannson, Faculty Chair at the Department of Ophthalmology, University of Iceland, will give the keynote speech – Prevention of Blindness in a Global Epidemic of Diabetes – in conjunction with Professor Tunde Peto, Chair of Ophthalmology at the University of Belfast.
Other speakers will include Pearse Keane, who will talk about the role of optical coherence tomography, and Simon Harding who will talk about individualising screening.
The theme of this year's conference is 'Building on best practice'. Speakers from the national programme will provide insights into recent changes and those planned for the future, giving important updates for best practice.
There will also be examples from a patient perspective along with quality assurance and grading tips.
At the end of the conference, delegates will:
know about recent changes and planned future developments in diabetic eye screening
understand modern definitions of good care within screening for diabetic eye disease
appreciate the patient's perspective of diabetic eye screening
You can find out more and register now by visiting the RSM website. Fees vary for members and non-members. Registration closes on Friday 14 April.
This year we are again providing 10 funded places for any active graders and/or screeners working within diabetic eye screening. To apply for a funded place, please email your name, job title, work email address and confirmation that your line manager is happy for you to attend to Maggie.crockett@nhs.net.
National diabetic eye screening conference 2017
Date: Friday 21 April 2017
Venue: The Royal Society of Medicine, 1 Wimpole Street. London. W1G 0AE
CPD: 5 credits (applied for)
To register or for more information, please visit the RSM website.
PHE Screening blogs
PHE Screening BLOGs provide up to date news from all NHS screening programmes – replacing our previously published newsletters.
You can register to receive updates direct to your inbox, so there's no need to keep checking for new blogs.