In his latest PHE Screening blog post written for his fellow GPs, Dr Jim McMorran looks at primary care issues relating to sickle cell and thalassaemia (SCT) screening.
The SCT programme, the first national genetic screening programme in the NHS, provides primary care with opportunities to develop practice in genetics.
As GPs, we are ideally placed to explain the significance of carrier results for individuals, families and across generations.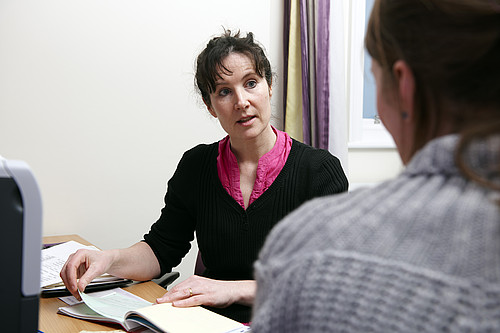 Antenatal screening for sickle cell disease and thalassaemia aims to offer informed reproductive choice by identifying parents who are genetic carriers and at risk of having a baby that inherits the condition. Early screening (target 10 weeks' gestation) is critical to this choice, including the option to terminate pregnancy in the first trimester.
Our role is to:
deliver fast access to screening: either in surgery on confirmation of pregnancy or by arranging rapid referral to midwifery
facilitate access to baby's father and inform him about screening
refer known carrier couples directly for prenatal diagnosis (target by 12 weeks + 6 days gestation) and/or discuss option of preimplantation genetic diagnosis
Preconception
Ideally, people should know their carrier status before pregnancy. It is important to:
use the Family Origin Questionnaire (FOQ) to identify the likelihood of patients being carriers
discuss testing in relevant settings – for example, sexual health, contraception, fertility treatment
offer testing on request – either in surgery or refer to a specialist haemoglobinopathy centre
clarify that blood relatives may also be carriers and encourage patients to discuss this with their wider family
The antenatal SCT programme uses 2 approaches depending on the prevalence of sickle cell disease locally.
An FOQ, followed by a blood test for sickle cell and other haemoglobin variants, only for those deemed at higher risk.
Screening by a blood test for sickle cell and other haemoglobin variants, and a FOQ.
The first method is used in low prevalence trusts, the second in high prevalence trusts. Low prevalence trusts are those where less than 1% of the booking bloods received by the laboratory are screen positive. High prevalence trusts have a figure greater than or equal to 2%. Trusts with a prevalence between 1% and 2% are considered borderline and should continue to use their current approach (algorithm).
Fertility treatment
When discussing fertility treatment, GPs should counsel couples and offer them testing before treatment. This reduces the risk of a couple going through IVF treatment with no idea of the risks and then facing potentially distressing choices following a positive antenatal screening test for sickle cell disease or thalassaemia.
We should offer carrier testing, using the FOQ, either in the practice or by referral. Ask for a full blood count and haemoglobinopathy screen and state this is a pre-IVF request.  Send the completed FOQ to the laboratory with the sample.
Alternatively, check if the IVF clinic can offer the test.
If the woman is already pregnant after fertility treatment, encourage her to access screening early – before 10 weeks.
Newborn screening
Screening for sickle cell disease is offered as part of newborn blood spot screening. It identifies babies with sickle cell disorders, beta thalassaemia and sickle cell carriers. It does not reliably detect other thalassaemia conditions or thalassaemia carriers.
As GPs we provide a vital link between newborn and antenatal screening. Through age appropriate discussion we can ensure that young people grow up understanding the reproductive significance of their carrier status.
Primary care's role is to:
support babies and families with haemoglobin conditions
explain significance of the baby's carrier result to parents – particularly at 6-week post-natal check
enter the baby's result in medical record
explain carrier result to child and develop systems to prompt discussion in relevant clinical settings – for example, adding to EMIS or similar systems covering sexual health and contraception
Resources for primary care include:
Family Origin Questionnaire
SCT carrier status can occur in any population. However, it is more common in people with ancestry in Africa, the Caribbean, the Mediterranean, India, Pakistan, South and South-East Asia and the Middle East.
The SCT programme has developed the Family Origin Questionnaire tool to determine the likelihood of a person being a haemoglobinopathy carrier.
Resources for the public
PHE Screening blogs
PHE Screening BLOGs provide up to date news from all NHS screening programmes – replacing our previously published newsletters.
You can register to receive updates direct to your inbox, so there's no need to keep checking for new blogs.