Public Health England doesn't directly train people how to carry out screening in the NHS. We'd love to visit you all but sadly don't have the resources to do this.
We do, however, put a lot of effort into providing high quality training materials which you can access remotely. This is much more practical for us and, hopefully, for you too as you can access learning when and where it suits you.
Our e-learning modules have been developed over more than 10 years. During that time, more than 25,000 people have used and benefited from them.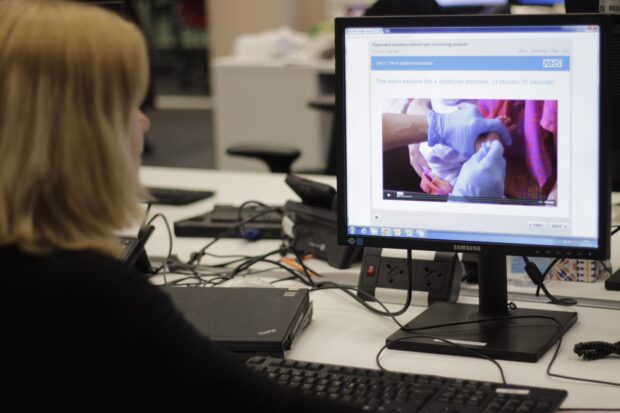 But while we're very pleased with the number of people who've accessed the modules, we know our e-learning, like everything in life, needs to move with the times. Just as we moved our publications and guidance to GOV.UK a few years ago, we've started a process to transition and improve all our e-learning modules.
e-Learning version 2
Work has now begun to move the e-learning modules previously accessed through the CPD website to the fantastic system e-Learning for Healthcare (e-LfH)  that's run by Health Education England (HEE).
As part of this process, we're refreshing e-learning content that is a bit tired and out of date and planning major revamps of some of the modules.
We know change can be a bit unsettling but it's important we move our e-learning modules because:
all NHS staff already access the HEE system for other learning so this brings everything into one place
the new system is better, more secure and allows us to build more exciting e-learning resources than ever before
the old CPD website will be closing down later this year as it's not fit for purpose (it is getting slower and uses old technology that is hard to update)
The new modules will contain the same great content, which we'll continue to update so it's always based on the latest screening policies and guidance. They may look a little different. That's because we've rebuilt them using a piece of software called Storyline 2.
Thousands of people use Storyline 2 to create world-class e-learning resources. It allows us to build more engaging, interactive e-learning modules, for example with new quizzes and questions to better check people's understanding.
How you access the modules will also change. In future you'll need to log into the e-LfH system rather than the CPD website. HEE will sort out the new accounts and you'll be contacted when these are set up. We'll make sure your e-learning history is kept safe somewhere you can still access it.
We've been asked many times whether e-learning history can be integrated with Trust ESR (Electronic Staff Record) systems. We're exploring this with HEE and hope it may be possible in the future.
We're working with HEE to produce new reports on who has completed screening e-learning within your hospital. We'll also be using the reports to continually audit and improve the modules.
The NHS Newborn Hearing Screening Programme has some particular requirements around how its e-learning modules are accessed and managed. While there will be some changes for NHSP staff, we are working hard to keep these to a minimum. We will be sending out specific communications to local NHSP services about this.
What happens next?
Our aim is to complete the transition in the next few months. We will provide regular updates about this transition so please check the blog and Twitter account regularly and subscribe if you haven't already.
We'll also be contacting registered e-learning users directly to let you know when you'll need to complete any modules so you don't lose your progress as we move to the new system.
So if you get an email from us, please try to complete any actions as soon as possible.
In the meantime, please continue to use the current e-learning modules for all your training needs. We're working hard to make the e-learning move as straightforward for everyone as possible and hope you will soon see the benefits of the transition and enjoy the new modules.
PHE Screening blog
PHE Screening BLOG articles provide up to date news from all NHS screening programmes – replacing our previously published newsletters.
You can register to receive updates direct to your inbox, so there's no need to keep checking for new blog articles.