It was a wet windy Wednesday at Wellington House in London when I… No, hang on.  Let's stop and think for a moment. Who is my audience? What are their needs?
This post is about a half-day workshop I recently attended called 'Writing user-focused content', run by the PHE Screening  IEPP* team.
I was asked – whoops, that's passive, must make it active – they asked me to write about what I learnt and how I can apply it to my day-to-day job. And I can honestly say, sitting here typing, that I have never been more focused on what I am writing and how I am writing it. It feels a little like a test if I'm honest but it's an excellent way of putting the learning straight into practice. Perhaps they should ask all future delegates to write a blog post immediately afterwards!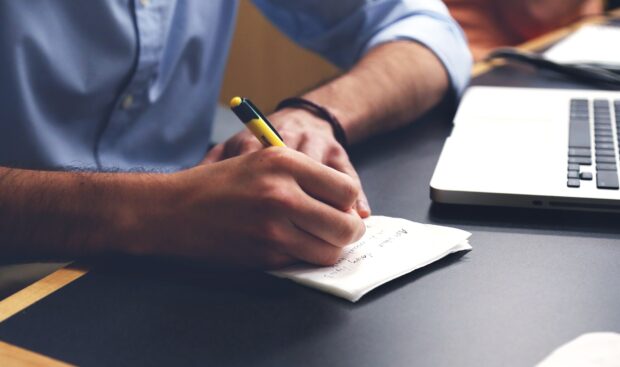 The way we write across government has changed significantly, due in no small part to technology and the availability online of everything we produce. Information that comes from government must be clear, concise and accessible to all. People want to be able to find at a glance (or a click) what they are looking for. We no longer have the luxury of indulging our inner creative selves and producing reams of flowery prose to be published in massive multi-paged tomes as the mandarins of yore may once have done. Ahem.
When I was last a civil servant (20 years ago) the passive voice was the default option. A service was provided by government and accessed by the population. Nowadays we write in the active voice. We provide a service and people access it. This way of writing is refreshingly straightforward and unambiguous. For me, however, it's going to take a bit of getting used to. Old habits are hard to break.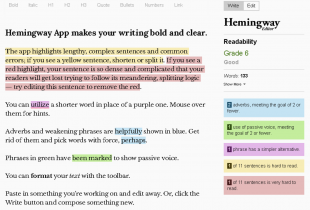 Fortunately, our trainers directed us to a handy website – the Hemingway App. You simply copy and paste your text and it magically highlights all your passive sentences in a sickly green colour. Use the website version as you have to pay to download the app.
So what else did we learn? Some fascinating statistics which really should make you think about your target audience before you write anything. For example, in the UK:
4.2 million people have English as their second language
50% of the population has a reading age of 11 or under
users read only 20 to 28% of words on a page
those with the highest literacy levels tend to have the most to read and the least time in which to do it
We also learnt that bullet points:
start with a lower case letter unless the first word is a proper noun
are a visually interesting way of presenting a list
are definitely not an alternative way of setting out paragraphs
contain no full stops anywhere
And finally, can I use what I learned in my day-to-day job? Yes definitely.
The above is only the briefest glimpse of what we covered. If you work in government, whatever your role, you need to be able to write in the government style. That is clearly, concisely and to the point, avoiding jargon and entirely guided by your users' needs. This course will help you do that.
If you work in the PHE Screening division and haven't been to a writing workshop yet, I'd urge you to get booked on one soon.
Everyone else who works in screening throughout England, from providers and primary care to commissioners, should see the benefits of this approach in accessible national information about PHE Screening that keeps things simple and focuses on the needs of the user.
*IEPP: information and education for public and professionals
PHE Screening blogs
PHE Screening BLOGs provide up to date news from all NHS screening programmes – replacing our previously published newsletters.
You can register to receive updates direct to your inbox, so there's no need to keep checking for new blogs.