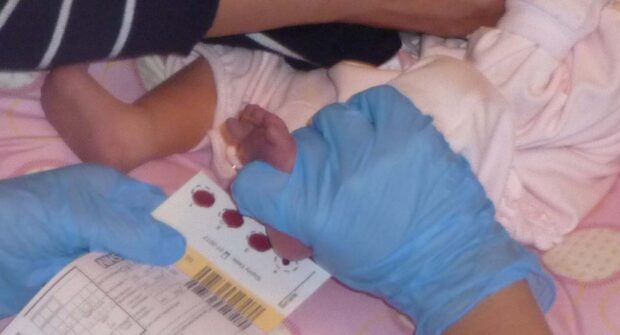 It's been a year since the NHS newborn blood spot screening programme expanded screening for an additional 4 inherited metabolic diseases (IMDs):
maple syrup urine disease (MSUD)
isovaleric acidaemia (IVA)
glutaric aciduria type 1 (GA1)
homocystinuria (pyridoxine unresponsive) (HCU)
We thought we'd celebrate the anniversary with an update on the programme expansion in practice.
As you can imagine, rolling out screening for an additional 4 conditions was a large project.
We needed to develop our resources to compliment the programme expansion and we have since published the following:
On 12 January the NBS screening programme gathered with clinicians, laboratory scientists, dietitians, a specialist nurse and a parent to review expanded screening implementation and the documents that support screening, referral, diagnostic testing and clinical management.
Prior to the meeting a survey was circulated to capture the views of health professionals who use the supporting documents. If you'd like to see the full results of the survey, please email the screening helpdesk.
Key points from the meeting:
overall, users were happy with the supporting documents – with no reported issues
stakeholders felt the programme engaged well with them during the review and sign off of the supporting documents prior to implementation
the programme will try harder to recruit more parent representatives when implementing screening for new conditions - the expanded screening implementation group had one parent representative member
some users experienced a bit of a learning curve getting used to the new GOV.UK website and further work is being done to make the blood spot supporting documents even easier to find - the programme would like to reassure everyone that help is available and users are encouraged to email the screening helpdesk if they encounter any difficulties
the British Inherited Metabolic Diseases Group (BIMDG) website hosts some supporting documents for IMD clinical management and we have requested they add a link to our resources on GOV.UK to make them easier to find
Issues and concerns:
there are more concerns nationally about the transport of the card - delay in sample receipt increases the chance of delayed diagnosis and treatment
being able to record whether parents can speak English or not would be helpful so that an interpreter can be arranged in advance if a baby is found to be screen positive
Looking forward, the team are working with some of the specialist metabolic clinicians to compile an audit of the clinical management guidelines to assess whether the timeframe for informing a family of a screen positive result, arranging first contact and first review appointment are being met.
Keep your eyes open for the programme's end of year report on the expanded screening project.
PHE Screening blogs
PHE Screening blogs provide up to date news from all NHS screening programmes – replacing our previously published newsletters.
You can register to receive updates direct to your inbox, so there's no need to keep checking for new blogs.