The newborn blood spot (NBS) screening programme aims to identify babies who have one of 9 rare but serious conditions.
All babies in England are offered this screening test, ideally when they are 5 days old. The test is done at such a young age so that babies who are affected can get the right treatment early on - this gives them the best possible outcome.
The test involves a small sample of blood being taken from the heel of the baby which is spotted on the test card in 4 sections.
It is important that the blood spots on the test card are good enough to read.
Evidence shows that poor quality blood spots could lead to a suspected result being missed – this could mean delayed care and treatment for the affected baby.
Newborn screening laboratories in England have acted on this evidence and adopted a national consensus on blood spot quality, with standardised acceptance and rejection criteria.
In October 2015 we had a reported case where a poor quality sample could have led to catastrophic outcomes:
A poor quality sample was identified – it had small spots and layered sections. A repeat sample was requested and a positivemedium-chain acyl-CoA dehydrogenase deficiency (MCADD) screening result was obtained. The baby was referred into clinical care and seen the next day.
If the initial sample had been used to obtain a result, it would have been below the initial cut-off for referral, meaning the case would have been missed.
Thankfully, in this instance, sample procedures were followed effectively and efficiently. Both the initial sample and the repeat sample were taken and processed quickly meaning there was minimal delay in referring the baby. It could have been very different though if sample taking or transport had been delayed.
To ensure that samples are suitable for testing, we highlight the following points: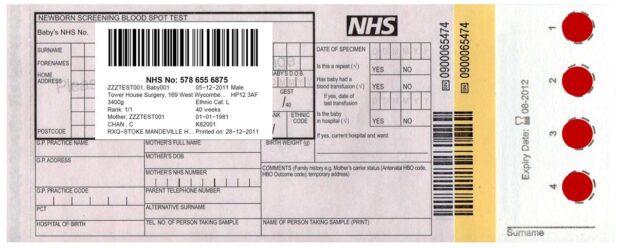 Sample takers are advised to take 4 good quality spots – each of the circles on the card should be filled and evenly saturated by a single drop of blood that soaks through to the back.
Blood spots that can lead to a false-negative result include:
- small volume spots (under-filled circles)
- spots where the blood has not soaked through to the back of the card
- multi-spotted (several small spots of blood in 1 circle)
- compressed spots
We advise screeners to read the revised Guidelines for Newborn Blood Spot Screening which will be available soon - the current version is available on GOV.UK .
We advise screeners to complete the online learning module on blood spot quality which is available on the e-learning website.
PHE Screening blog
The PHE Screening blog provides up to date news from all NHS screening programmes – replacing our previously published newsletters. You can register to receive updates direct to your inbox, so there's no need to keep checking for new blogs.