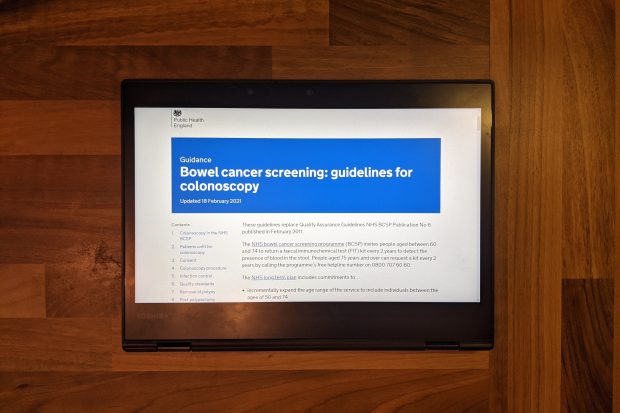 We have recently published updated guidance for the NHS Bowel Cancer Screening Programme (BCSP) on:
The documents are now published in HTML format, which allows changes to be made easily. This helps to make sure guidance can be rapidly adapted to new developments and always reflects the most current information.
Colonoscopy guidelines
We published the updated guidelines on 18 February 2021. Changes in the guidelines reflect the many developments within the NHS Bowel Cancer Screening Programme in the last 10 years, including:
the increasing use of advanced polypectomy techniques, such as endoscopic submucosal dissection
The updated guidelines focus on screening centres and contain all the relevant information required to provide a colonoscopy service within the NHS BCSP. They outline the entire colonoscopy process, including information on:
BSCP colonoscopy accreditation
consent
removal of polyps
links to quality standards
Pathology guidance
We published the updated pathology guidance on 10 May 2021. The publication includes new and updated guidance on:
standards which apply to pathologists reporting BCSP specimens
assessment of lesion surgical margin
epithelial misplacement (EM) within adenomas versus adenocarcinoma
sessile serrated lesions and serrated polyposis
We have removed the section on villousness, now that this is not a criterion that affects the nature of post-polypectomy surveillance.
Radiology guidance
We published the latest version of the bowel cancer screening guidelines for CTC imaging on 12 March 2021. The updated radiology guidance was originally updated in October 2019 and has since been reviewed, including changes to:
section 2, use of CTC in bowel cancer screening – clarified the position on flexible sigmoidoscopy prior to a CTC procedure and emphasises that IV contrast should not be used in the programme unless the patient has indications requiring stage
section 3, incomplete colonoscopy – clarified that consent must have been obtained before a patient is given sedation at their colonoscopy procedure, for people who go onto require same day CTC
section 9, BCSP radiology team – clarified roles and responsibilities of team members and incorporated other professionals who can report CTCs within the screening programme
section 17, minimum data set – updated the entire section
PHE Screening blog
The PHE Screening blog provides up to date news from all NHS screening programmes. You can register to receive updates direct to your inbox, so there's no need to keep checking for new blogs. If you have any questions about this blog article, or about population screening in England, please contact the PHE screening helpdesk.