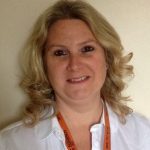 Karen Emery-Downing
Karen qualified as a registered nurse in 1995 and has worked mainly in gastroenterology/endoscopy. In 2005 she gained an MSc in Managing quality in Healthcare and took on a more senior management role within endoscopy. In 2013 she was appointed Programme Manager/Matron for the Bowel cancer screening team in Leicester. In 2016 she was seconded to the national bowel cancer screening team for 2 days per week. She was appointed national programme manager in 2018.
Karen Emery-Downing reflects on her first few months as national programme manager of the NHS Bowel Cancer Screening Programme.
Nurse endoscopists already undertake as much of 20% of the workload in an endoscopy unit. NHS Improving Quality initiatives have estimated clinical endoscopists could carry out up to 40% of low risk, high volume endoscopic procedures.