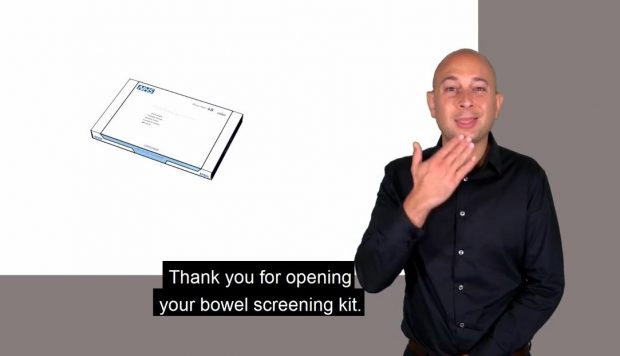 We blogged recently about an animation which gives people a step-by-step explanation of what they need to do to collect their bowel cancer screening sample correctly.
The video, clocking in at under 2 minutes, helps people understand what to expect and do when receiving the 'FIT' (faecal immunochemical test). The FIT kit has been sent to all people invited for bowel cancer screening since June 2019.
The short film has proved extremely useful, and the English version with optional subtitles has now been viewed more than 3,500 times. Subtitles are also available in Arabic, Bengali, Chinese (simplified and traditional), Farsi, Gujarati, Polish, Portuguese, Punjabi and Urdu.
BSL version
We're delighted to say that a BSL translation of the animation is now available.
You can find the BSL version alongside all the other videos on Vimeo (it is the second version to appear following the English version with optional subtitles).
View from RAD
Public Health England contacted the Royal Association for Deaf people (RAD) to commission this BSL translation.
Russell Cooke, Community Engagement Manager for RAD, explained why it is so important for deaf people to have a BSL version.
Russell explained:
Translating a PHE video is vital for deaf people whose first or preferred language is BSL. Without this additional support, most of the deaf community would not be able to access the information contained in it.
Russell added:
BSL is the first or preferred language for most deaf people in the UK. It is a language in its own right, with its own grammar and syntax. It is not simply a signed equivalent of English – which means that for many deaf people, written English is difficult to access. We look forward to continuing to work with PHE to ensure the longer-term equality of access for deaf people.
The video
The video gives a step-by-step explanation of what people need to do to collect the bowel sample correctly. It covers:
what the package contains
how to remove the test kit from the box
writing the sample date on the test kit
how to collect and take the stool sample
how to send the completed test kit back in the post
You can also see the video on the bowel cancer screening section of the NHS website.
PHE Screening blog
The PHE Screening blog provides up to date news from all NHS screening programmes. You can register to receive updates direct to your inbox, so there's no need to keep checking for new blogs. If you have any questions about this blog article, or about population screening in England, please contact the PHE screening helpdesk.