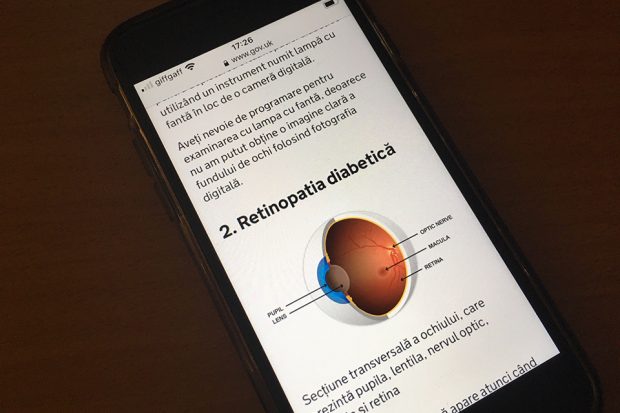 Translations of the 4 national NHS diabetic eye screening (DES) public information leaflets have been updated and published on GOV.UK in accessible HTML format.
The leaflets are:
We conducted a survey of local NHS DES providers in October and have provided translations in the 10 languages they told us were needed most.
These languages are Arabic, Bengali, Chinese, Gujarati, Hindi, Polish, Portuguese, Punjabi, Romanian and Urdu. Local NHS DES providers are responsible for dealing with requests for translations in any other languages.
Local NHS screening providers should direct people who cannot read English to the relevant national translations on GOV.UK. If an individual cannot access the internet you can print out the digital HTML translation for them.
Letter template tips for providers
The new translations are part of the ongoing transition from printed to digital information.
Local NHS DES screening providers are reminded they should:
The new national letter templates were developed in conjunction with a focus group of people with diabetes and approved by them.
Local providers can add to the wording of the national letter templates only if there's specific local information which needs to be included, for example local patient transport policies, clinic directions or maps. However, providers should not change or leave out any of the nationally agreed wording to accommodate this.
If you need to make people aware of information about your trust, such as its information governance policy, then adding a simple web address link to your letters could be a much better solution than repeating this detail and making the letters longer.
PHE Screening blog
The PHE Screening blog provides up to date news from all NHS screening programmes. You can register to receive updates direct to your inbox, so there's no need to keep checking for new blogs. If you have any questions about this blog article, or about population screening in England, please contact the PHE screening helpdesk.