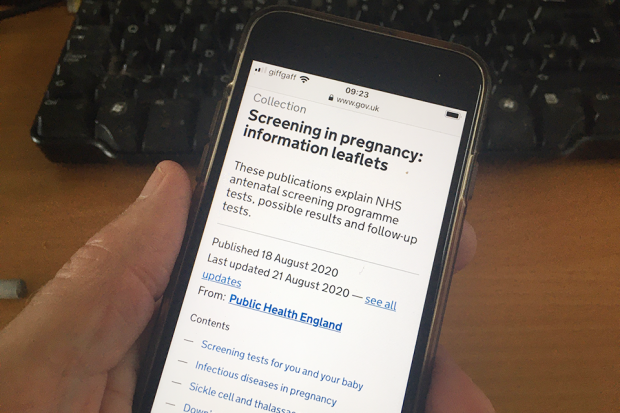 Regular readers of this blog will know that our user research evidence shows that most people benefit from receiving digital information.
Our early adopters of digital NHS antenatal and newborn screening information highlighted many advantages of digital leaflets, including that they:
work really well on smaller screens
are ideal for people who need use screen readers
always contain the most up to date information
Signposting women to the digital version of screening tests for you and your baby (STFYAYB) is now business as usual for our early adopter antenatal and newborn (ANNB) screening providers.
Make sure you use the right link
Please:
direct people to www.gov.uk/phe/pregnancy-newborn-screening for the digital version of STFYAYB
do not use the link www.gov.uk/government/publications/screening-tests-for-you-and-your-baby-description-in-brief as this takes you to the withdrawn A5 PDF version of the leaflet
Digital information has proved particularly beneficial during the COVID-19 pandemic when face-to-face contact between women and midwives has been greatly reduced.
During this time we have supported 65 NHS ANNB screening providers, in addition to the 10 early adopter sites, to direct people to the digital version of STFYAYB.
Feedback to our digital information project has been overwhelmingly positive. Comments received have included:
I think this is a very sensible and timely plan.
Would not be concerned. Digital link much more appropriate and we regularly use links to easy read / different language versions.
Digital is the way forward – would welcome that.
National support for local services
However, we need to make sure that women who are not able to access online information are not disadvantaged.
That is why PHE will continue to provide printed copies of STFYAYB available to order from national print provider APS Ltd, although we will only print about 5% of previous volumes from 1 April 2021 onwards.
We have also published guidance on how to print digital leaflets if people want a hard copy of any section of the leaflet.
We have made all the antenatal and newborn screening digital information easier to find for women, midwives and screening services by creating 2 new document collections on GOV.UK:
What providers should be doing now
We are asking providers to:
direct women to the digital version of STFYAYB by default by 31 March 2021 at the latest
hand out printed copies of STFYAYB only for people who are not online or are not confident about accessing the correct digital information
print out any digital HTML leaflet (or sections of leaflets) locally if required
The digital version of STFYAYB is now available in English and 12 other languages.
Screening services can still view the full PDF of the printed leaflet and order printed copies for people who are not online via the APS online ordering portal (requires login).
In addition, resources are available to support providers moving from printed to digital information.
Our suite of NHS ANNB digital screening leaflets
All the following information leaflets are now published on GOV.UK in digital HTML format:
Screening providers can continue to order printed copies of the above leaflets from national print provider APS Ltd until stocks run out but should be transitioning to using the digital versions.
PHE will continue to work to support commissioners and providers to make this transition. Please contact the PHE screening helpdesk if you have any questions or requests.
PHE Screening blog
The PHE Screening blog provides up to date news from all NHS screening programmes. You can register to receive updates direct to your inbox, so there's no need to keep checking for new blogs. If you have any questions about this blog article, or about population screening in England, please contact the PHE screening helpdesk.