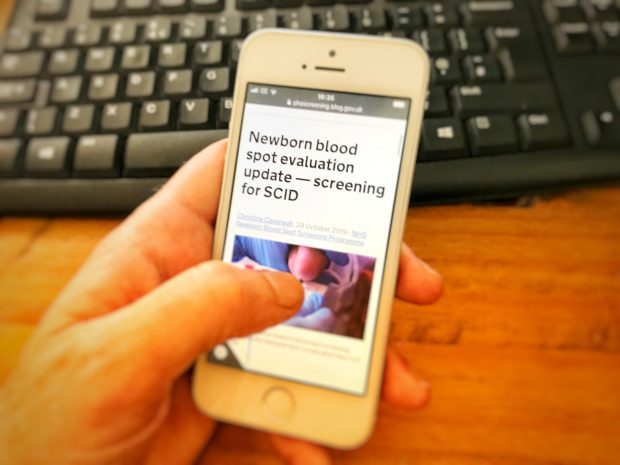 The UK National Screening Committee (UK NSC) has previously recommended that screening babies for severe combined immunodeficiency (SCID) should be evaluated in the NHS.
When launched, the SCID evaluation will cover around two thirds of the newborn population of England. The laboratories included in the evaluation are:
Birmingham
Great Ormond Street Hospital (GOSH), London
Manchester
Newcastle
Sheffield
South East (SE) Thames
The results will inform a recommendation about whether screening for SCID should become part of the NHS newborn blood spot (NBS) screening programme in England.
About SCID
SCID makes it very hard to fight off common infections like pneumonia and meningitis. You may have heard of babies with SCID having to live in a 'bubble' to avoid infections. If they are not treated babies with SCID will generally die by 2 years of age.
Currently 30% of babies with SCID are identified via family history. The delay in finding the remaining 70% means that they have been exposed to infection for longer before receiving treatment. Screening would help to find and treat babies with SCID earlier.
Getting ready for the evaluation
The NBS programme shared a blog article last year (2019) giving an update on the latest developments in screening for SCID. We hoped at the time that the SCID evaluation could be launched in September 2020. Unfortunately, the advent of COVID-19 meant this was not possible. Work to prepare for the evaluation has continued and has involved:
getting laboratories ready
writing public information
creating new e-learning resources to train health professionals
planning training events for newborn screening leads
new procurement processes, including identifying the equipment needed
Changes to BCG
Some parents are offered the NHS neonatal BCG tuberculosis (TB) vaccine for their baby. The vaccine is given only when someone has an increased risk of coming into contact with TB.
In our previous blog article we mentioned that the SCID evaluation is reliant on changes to the BCG vaccination programme. This is because treatment for SCID is more complicated if a baby has had the BCG vaccine. For those babies who are being screened for SCID, it is important that the SCID screening result is available before BCG is offered. These changes will mean babies eligible for BCG will only be given the vaccine:
once they have reached 28 days old
on receipt of a screen negative SCID result (or 'SCID not offered' result if not within an area involved in the evaluation)
A new start date
Following discussions with NHS England and Improvement, stakeholders and colleagues within PHE, we are very pleased to confirm that the SCID evaluation and the necessary changes to the NHS neonatal BCG immunisation programme are scheduled to start from September 2021.
We will work closely with colleagues in the NHS neonatal BCG programme to make sure the changes to the programme are in place when the SCID evaluation begins.
Please keep an eye out for our future blog articles under the SCID tag and under the newborn blood spot category.
PHE Screening blog
The PHE Screening blog provides up to date news from all NHS screening programmes. You can register to receive updates direct to your inbox, so there's no need to keep checking for new blogs. If you have any questions about this blog article, or about population screening in England, please contact the PHE screening helpdesk.