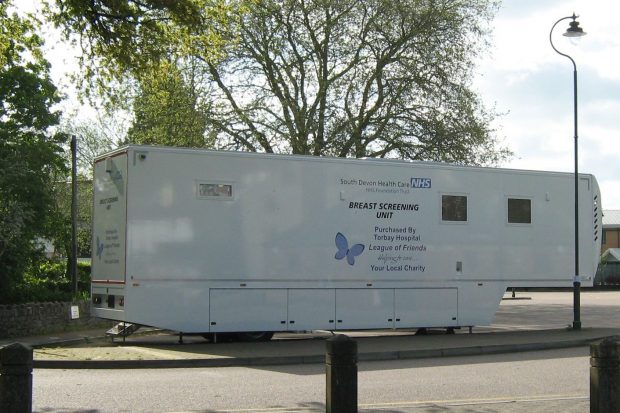 Licence: Creative Commons Attribution Phil Gayton
Over the past few years, the NHS Breast Screening Programme has seen an increasing shortage of radiographic staff, despite attempts to encourage recruitment. One solution to this challenge is to increase the recruitment of assistant practitioners (APs).
The introduction of the mammography associate practitioner apprenticeship has helped to achieve this. More than 110 apprentices are progressing towards becoming an associate/assistant practitioner right now.
Recruitment
The NHS Breast Screening Programme introduced a 4-tier radiographic workforce structure in the early 2000s. The first tier permits non-radiographers (APs in mammography) to take routine mammograms (x-rays) in the screening programme.
Recruiting this valuable staff group has always been difficult. This is because, as a non-registered healthcare professional, they require supervision by a registered radiographer.
As the majority of NHS breast screening is undertaken on mobile vans, APs have historically been unable to work without a radiographer working alongside them on the mobile screening site. This has restricted the proportion of APs working in NHS breast screening.
New way of working
Remote radiographic supervision is now possible, thanks to:
the move to digital mammography
improved communications via mobile phones
direct image transfer
To test the efficacy and acceptability of APs working on mobile facilities with remote radiographic supervision, Public Health England (PHE) undertook a 4-month pilot across 4 NHS breast screening services. The Society and College of Radiographers, Health Education England and NHS England supported the pilot.
The pilot was a success and PHE has now published the outcomes in a report and implementation guidance which supports breast screening services to adopt this new way of working.
I would encourage services who are struggling with recruitment to consider adopting this new way of working. I hope we can continue developing the role of our much-valued APs further so they can progress their skills and we can acknowledge and reward them appropriately.
PHE Screening blog
The PHE Screening blog provides up to date news from all NHS screening programmes. You can register to receive updates direct to your inbox, so there's no need to keep checking for new blogs. If you have any questions about this blog article, or about population screening in England, please contact the PHE screening helpdesk.