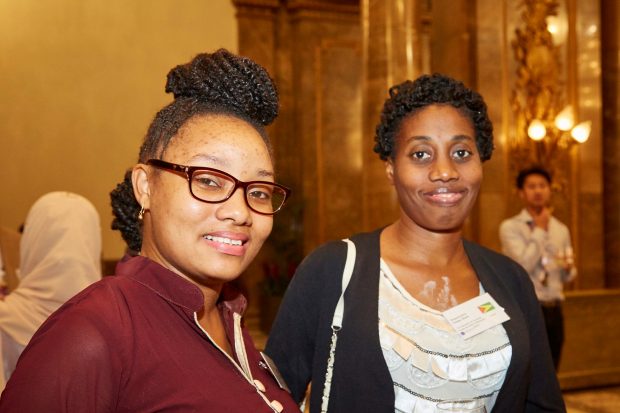 I am Dr Jewel Mahase. I first trained as a doctor in Cuba and I now work in Linden in Guyana. I have been working with people affected by sickle cell disease and thalassemia in my town for more than 5 years.
I was recently given the opportunity to take part in a Commonwealth fellowship programme. The Commonwealth Scholarship Commission funds this and the Association of Guyanese Nurses and allied Professionals hosts it.
My busy schedule
Not long after my arrival in the UK, I met the lovely Dr. Lola Oni OBE, who was my programme director. She is the director and manager of the Brent Sickle Cell and Thalassaemia (SCT) Centre at the London Northwest University Healthcare NHS Trust.
She provided me with a full and exciting schedule which included:
placement visits to various renowned hospitals and laboratories around London and Oxford
thanksgiving services
patient and carers' awareness meetings
general meetings of the Sickle Cell Society
teachings sessions to allied professionals
sickle cell awareness outreach sessions
A visit to PHE
One unforgettable moment was the time I visited Public Health England's (PHE's) main office.
At PHE I met friendly and welcoming staff who were excited to share their knowledge about SCT. I was especially interested to hear about the NHS Antenatal and Newborn Screening Programmes, which do not yet exist in my country.
I can fondly remember listening to presentations on:
creating guidance
raising awareness of SCT
creating and auditing national guidelines and standards
how data collected and analysed from the programme influences the above
It was intriguing and it inspired me to want to do so much more for the people in my country affected by SCT. These conditions can be life altering.
I learnt that a national SCT programme is important and worthwhile. It aids in early diagnosis and treatment, saves many lives and is cost effective. I believe this should be mirrored worldwide.
I'll forever be grateful for this experience and the impact it has had on my professional life and capacity building in my country.
Thank you.
PHE Screening blog
The PHE Screening blog provides up to date news from all NHS screening programmes. You can register to receive updates direct to your inbox, so there's no need to keep checking for new blogs. If you have any questions about this blog article, or about population screening in England, please contact the PHE screening helpdesk.