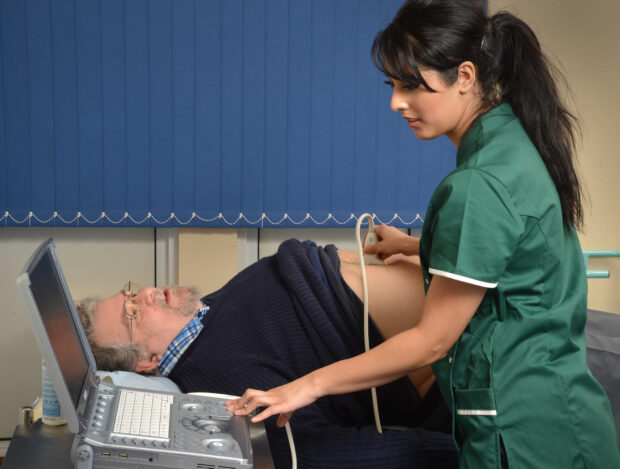 The reaccreditation process for screening technicians in the NHS abdominal aortic aneurysm (AAA) screening programme is changing.
For a number of years, all screening technicians had their scanning competence assessed at a higher education institution (HEI) every 24 months as part of the reaccreditation process.
Over the years, we have received feedback about this process from screening technicians, clinical skills trainers (CSTs) and local programme managers. We have also received feedback from assessors at the HEI, which has highlighted variation in screening technician practice across providers.
A new model
As a result of this feedback, we proposed a different model for assessing screening technicians' scanning competence. This model has been informed by 4 focus groups with CSTs and programme managers.
The new model is an annual competence assessment as part of the existing screening technician internal quality assurance process. The assessment will be carried out locally by the provider's own CST during one of the clinic observations that the CST is required to carry out every 4 months. This will replace the scanning assessment at the HEI.
To support this change, we will host 4 regional training events every year, specifically for CSTs and provider quality assurance (QA) leads. This will be an opportunity for CSTs to network and to benchmark and standardise practice, encouraging standardised screening technician practice across the country.
What happens next?
The current process of scanning assessments at the HEI will remain in place until the final assessment event on 24 June 2020. All screening technicians who are booked onto the events on 19 February, 22 April and 24 June 2020 should keep these bookings.
Local annual scanning competence assessments
Screening technicians who are due their scanning competence assessments after June 2020 will be assessed locally by their CST. These assessments will then be carried out every 12 months. To enable providers to plan and transition to local annual assessments, the certificates issued by the HEI will be valid for up to 28 months from the date they were issued.
This means that by 25 October 2022, every screening technician will have had at least one annual competence assessment carried out by the CST.
A standard national template for the annual competence assessments will be made available when the guidance documents are updated.
We will review the new process with local services, quality assurance teams and commissioners at the end of the year.
Knowledge assessments
There is no change to knowledge assessments. Screening technicians are required to successfully complete 2 e-learning units available on e-Learning for Health every 2 years.
Updating our guidance on GOV.UK
Over the coming months, we will be updating our guidance documents to reflect the move to local competence assessments.
CST/provider QA lead training days
This year's regional training events will take place on:
Wednesday 9 September – Leeds
Wednesday 30 September – Bristol
Tuesday 3 November – Birmingham
Wednesday 11 November – London
CSTs and provider QA leads will only need to sign up to one of these dates when we confirm venue details.
PHE Screening blog
The PHE Screening blog provides up to date news from all NHS screening programmes. You can register to receive updates direct to your inbox, so there's no need to keep checking for new blogs. If you have any questions about this blog article, or about population screening in England, please contact the PHE screening helpdesk.