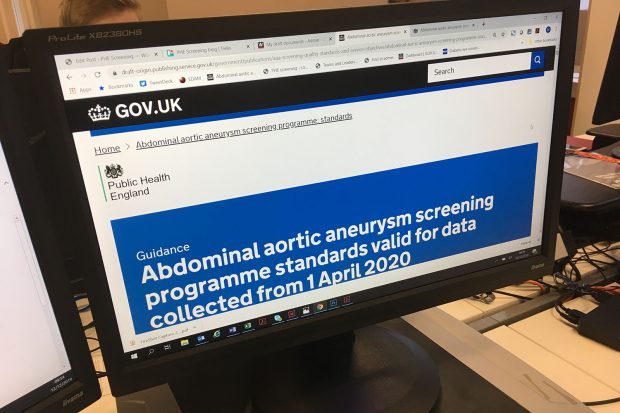 We are pleased to announce the publication of updated national standards for abdominal aortic aneurysm screening.
Standards provide reliable and timely information about the quality of screening services at local, regional and national level. Local providers must strive to meet performance thresholds for each national standard to make sure screening services are safe and effective.
We introduced standards for AAA screening in 2009 and reviewed them for the first time in 2015.
We have now updated these standards again following a second major review in line with our new national approach to setting screening standards. The updated standards will be valid for data collected from 1 April 2020.
The review process
The group that reviewed the standards included representatives from the national programme team, local providers, commissioners, the screening quality assurance service (SQAS) and professional clinical advisors.
This gave us a broad range of opinions of what matters most and enabled us to test the feasibility of the new standards when we were developing them.
Feedback from group members suggested that the process worked well:
My involvement in this project group enabled me to represent Public Health and Commissioning and ensured that these considerations were reflected in the new standards. By being part of the multi-disciplinary project group I now better understand the rationale for all the standards and how they help ensure that the AAA screening programme is the best it can be.
– Matthew Dominey, Screening and Immunisation Lead
I was privileged and delighted to take part in the recent screening standards review. I found the process very informative and it has given me a greater understanding of the standards themselves, how much the AAA Screening Programme, as a whole, has moved forward over the past few years and what goes on 'behind the scenes' when deciding what standards are necessary and the approval process they go through before being released.
– Rachel Mitchell, manager of the Hereford and Worcester AAA screening service
We also consulted internally with colleagues in the PHE Screening division and externally with our stakeholders, including providers, commissioners and colleagues from the devolved nations.
Read the full report on the AAA screening standards consultation.
Summary of main changes
We have removed 6 standards that were either well achieved, were not driving improvements in the quality of the services or where the standards were not measurable. These 6 were the % of:
subjects not responding to first offer to whom a confirmed second offer is made, where the appointment is scheduled to take place within the cohort year plus 3 months
assessed images of acceptable quality
inaccurate calliper placements determined by review of static images
incomplete screening episodes
men referred within one day to vascular services
referred men subsequently found to have an aorta <5.5cm on confirmatory CT or MRI scan
We have also introduced 3 new standards, which are the proportion of:
eligible cohort men living in the most deprived 3 deciles of local areas who are tested
abnormal screens (aorta ≥3.0cm) reviewed within 21 days of the initial screen date
men having a nurse assessment within 12 weeks
The first of these 3 standards is our first national inequalities standard, measuring coverage of screening in the most deprived 30% of local areas.
We are aiming to monitor and improve coverage in these areas as we know men from the most deprived areas are the most likely to have an aneurysm.
The other 2 new standards focus on parts of the pathway that we have not reviewed nationally before. When mapping our standards to the AAA screening pathway we realised there were some gaps.
The new standards look at the internal quality assurance process and the provision of nurse specialist assessments. In both these areas we know there are challenges with workforce capacity and monitoring the data will enable us to evidence the need for greater capacity.
PHE Screening blogs

PHE Screening blogs provide up to date news from all NHS screening programmes. You can register to receive updates direct to your inbox, so there's no need to keep checking for new blogs. If you have any questions about this blog article, or about population screening in England, please contact the PHE screening helpdesk.