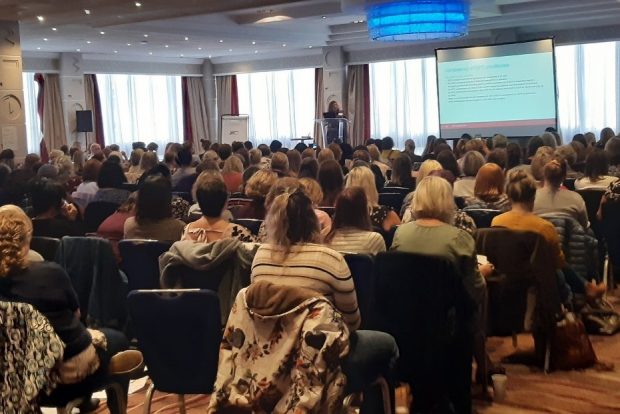 The national newborn and infant physical examination (NIPE) conference took place in Manchester on 25 September 2019. The event attracted over 170 attendees, including midwives, doctors, failsafe officers, quality assurance (QA) teams, advanced neonatal nurse practitioners, screening commissioners and students.
Andrew Rostron, National Programmes Lead for Antenatal and Newborn Screening Programmes, chaired the day.
A breakdown of the conference
Jill Walker, the NIPE programme manager, began by updating us with the current work tasks in the NIPE Programme.
She spoke about several items including:
the updated NIPE clinical handbook that was published in August 2019
successful implementation of the SMaRT 4 NIPE (S4N) system
future hip screening changes
the current and future work schedule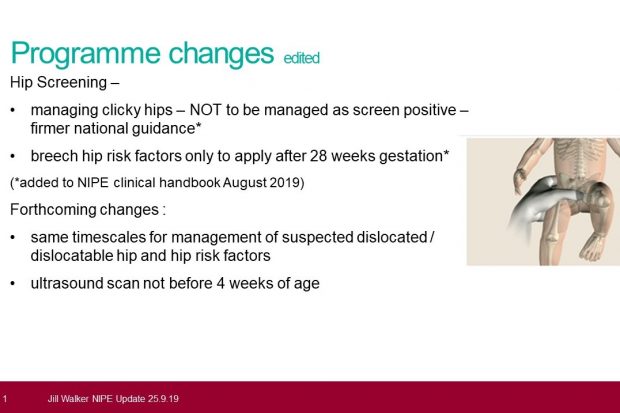 The rest of the day included a series of excellent clinical talks on the 4 national NIPE screening elements: eyes, heart, hips and testes. Experts in each field gave knowledgeable, enthusiastic and entertaining talks. There was also some exciting information about possible future developments including research and emerging screening tools.
Let us know your thoughts about the NIPE conference. Get in touch via the screening helpdesk.
The afternoon started with a session on shared learning in NIPE, followed by a lively interactive quiz on S4N and data. We then heard talks on NIPE university training, the role of the NIPE failsafe officer, identifying gaps in the screening pathway and SMaRT4 NIPE (S4N) helpdesk customer survey results.
Positive feedback
Rachel Best (University of Nottingham), an attendee speaking about the conference, said:
I thoroughly enjoyed the National NIPE conference. It was a great opportunity to network with fellow NIPE examiners and share practice. The updates on the mandatory aspects of NIPE were extremely well presented — evidence-based, great tips for practice, thought-provoking and humorous!

As an educator, it was extremely beneficial to hear how NIPE has been incorporated into the undergraduate curriculum and discuss this further with colleagues present from other universities. The organisation of the day, the speakers, the venue and refreshments provided were all top quality and it was an extremely valuable day. Thank you!
We would like to say thank you to all the speakers and to everyone for attending and making it an interesting, interactive and wholly worthwhile day.
PHE Screening blogs
PHE Screening blogs provide up to date news from all NHS screening programmes. You can register to receive updates direct to your inbox, so there's no need to keep checking for new blogs. If you have any questions about this blog article, or about population screening in England, please contact the PHE screening helpdesk.