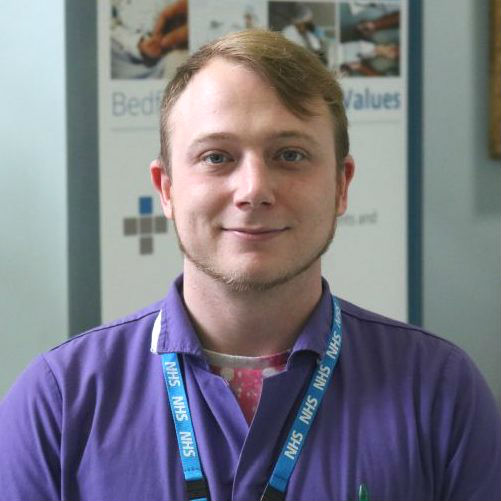 Shannon Daly is a screening technician for Bedford, Luton and Milton Keynes abdominal aortic aneurysm (AAA) screening programme. He is taking the next step in his career after gaining the health screener diploma.
Where it began
I started working for the NHS in 2008, taking 999 calls for the ambulance service. I gained invaluable experience but wanted to move towards clinical work. So, 2 years ago, I made the move to the NHS AAA screening programme. The programme invites men during the screening year (1 April to 31 March) that they turn 65. The screening check is an ultrasound scan to see if the man has an abdominal aortic aneurysm.
There were a few reasons why I wanted to join the programme. One was that I wanted to expand upon my skills and become a hands-on practitioner. Another more personal reason is that my grandad sadly passed away from a ruptured aortic aneurysm. It motivated me even more to apply when I saw the screening role advertised. I wanted to help people avoid the pain and suffering I had felt when we lost my grandad. On top of this, the training was also a huge selling point of the role.
Training to be a AAA screener
When you join one of the AAA screening providers, you are registered to undertake the level 3 health screener diploma. After successful completion, it allows you to not only work as a qualified screener, but also gives you a great qualification that is nationally recognised.
The health screener diploma is workplace-based and focuses on applying knowledge to your screening role. As well as learning about ultrasound scans and AAA, the diploma also covers other aspects of healthcare such as infection prevention and control, safeguarding, communication and health and safety.
It involves different methods of assessment including observation of clinical practice. I was supported by a clinical skills trainer who is an advanced ultrasound practitioner. It took me 18 months to complete my training and gain the qualification.
Hard work pays off
By the end of my training, I had learned plenty of new and important skills. I was able to demonstrate my ability to run a clinic and offer personal informed choice. I was also able to do ultrasound scans and deliver the results of the AAA scan to the men.
My training has given me the skills and competency to speak confidently and sensitively to men if their scan detects a AAA and to discuss the next steps with them. I also know how to communicate with and reassure men if their scan shows that an AAA has not been detected.
Taking the next step
The experience I have gained through my training, together with the qualification, has helped me to take the next steps. I applied for an apprenticeship route into nursing as a trainee nursing associate.
A main requirement to apply for this apprenticeship was successful completion of the level 2 health and social care diploma, which is included in the level 3 health screener diploma.
After a tough selection process, I was successful and am due to start my training in December. The training takes place over 2 years, and I will also be paid a salary as it is an apprenticeship.
It involves a mix of practice placements at the hospital and theoretical study at university. I'll gain a level 5 foundation degree and become a registered nursing associate with the Nursing and Midwifery Council.
Without the health screener diploma, I would not have had the necessary requirements to apply for this role. Saying that, I am grateful to my friends and colleagues who helped me through my training, interviews and assessments.
If you are thinking of taking a step into healthcare, the health screener role is invaluable. It allows you to gain hands-on experience and a qualification, while helping and caring for members of the public.
Get involved
We would like to hear and learn from screeners who are working through, or have completed, the health screener diploma. Please tell us your views in this very short survey which should only take 3 minutes to complete.
PHE Screening blogs
PHE Screening blogs provide up to date news from all NHS screening programmes. You can register to receive updates direct to your inbox, so there's no need to keep checking for new blogs. If you have any questions about this blog article, or about population screening in England, please contact the PHE screening helpdesk.