The level 3 health screener diploma is the recommended training programme for any new screeners in the:
Successful completion of the diploma provides:
a recognised national qualification
evidence of transferable skills that support personal and academic development
the knowledge, skills and understanding to work in a healthcare environment
My name is Jiten and I am a screener in a London AAA screening programme.
In this blog I'd like to tell you a little bit more about my experiences of working through the diploma and being part of a new suite of video resources.
What I have learnt so far
As an AAA screener, the diploma is helping me understand and carry out the practical skills required. I am also learning about other important areas in health care such as communication, safeguarding and infection prevention and control.
As I continue to work through the diploma, I have developed many transferable skills that have enabled me to adapt to situations when a man has language or mobility needs.
The hands-on approach to learning really helps me understand how and why things are done to ensure the man is always put first.
In August 2018 I passed my external assessment which means I can now work semi-independently. I scan on my own, but help is always available from the clinical skills trainer (CST) or a senior screener if there is something I am unsure about.
Becoming a film star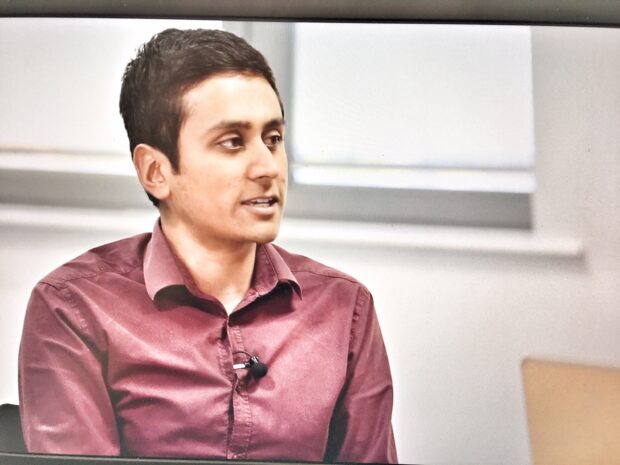 Last year I was asked to take part in some films to support learners, like myself, and assessors as they work through the diploma together.
It was an interesting experience meeting people from other screening programmes and learning how working holistically through the diploma greatly reduces the amount of work required.
During filming I found out that there are different ways to provide evidence and now I know I don't always have to provide written work, and instead I can have a professional discussion with my assessor or a subject expert.
The films are a great resource because they show the important steps for working through the diploma. I hope other learners and assessors will find the films as helpful as I found being involved in their making.
I am still working through my diploma and due to complete it in November 2019.
Scanning and making decisions on my own, along with undertaking the diploma and inputting to the filmed learning resource have all been invaluable experiences that have built up my confidence and helped make me a good screener.
New resource to support the diploma
Watch out for future posts about a new e-resource to support diploma learners and assessors. Launch events are planned for November/December 2019.
PHE Screening blogs
PHE Screening blogs provide up to date news from all NHS screening programmes. You can register to receive updates direct to your inbox, so there's no need to keep checking for new blogs. If you have any questions about this blog article, or about population screening in England, please contact the PHE screening helpdesk.