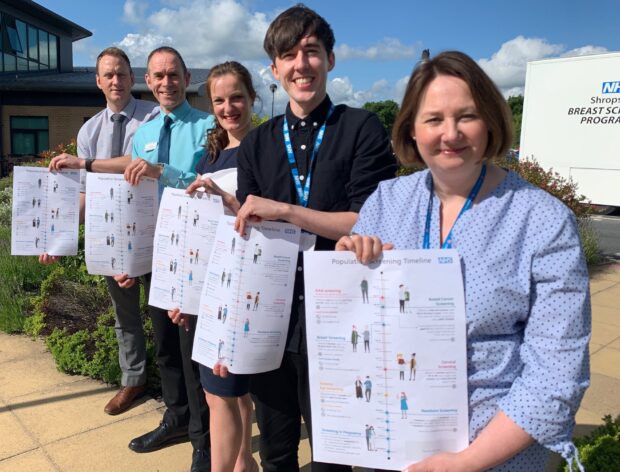 Here at Public Health England (PHE) screening blog HQ we're always looking to share great resources which can be used to help tackle inequalities nationally.
This article is about how a team of dedicated screening professionals in Shropshire took our old 'NHS Screening Timeline' resource, which was looking very long in the tooth, and created a fantastic new resource to make screening easier to understand for the public.
This timeline has now been adapted into a double-sided A4 resource by the national PHE Screening team so that others can benefit. As well as the timeline, the national resource includes an explanation of population screening, definition of personal choice and signposting to more resources. The screening timeline is now available to download.
You may have seen our blog about not using screening invitation leaflets for local awareness/promotional purposes. We hope you agree that this new screening timeline will be an excellent replacement for using leaflets and is actually far more appropriate.
Many hands make light work
Ever heard the saying 'many hands make light work'? How about 'too many cooks spoil the broth'?
Being an optimist, I took on board the first and firmly discarded the latter and decided on a collaborative approach to tackling screening inequalities.
I knew I wanted to improve information about screening in my area, but with few resources, not much time and a modest budget, I needed all the help I could get.
Fortunately for me, other screening programme managers were keen to work with me. Interest quickly snowballed into a larger discussion including all screening programme managers and representatives from local councils. There was clearly an appetite to work together and make a positive difference to the population of Shropshire, Telford and Wrekin.
Simple and eye-catching information
We wanted to create a resource that would make it clear what screening programmes people will be offered and when, in order to make services more accessible. We wanted a resource that was:
simple
included information about local screening services
had contact details for each local service
It was also important that it was specific to our Shropshire, Telford and Wrekin population and could be accessed and shared online.
Our timeline
Our designer produced what I believe is a brilliant and clear screening timeline and our screening managers helped get the details right.
We are now planning to work with our council's community engagement teams to distribute it widely, including sharing it on social media and online forums.
It was great to get the thumbs up for our resource from PHE Screening and they have now adapted it so it can be shared nationally.
Fitting into the big picture
Our collaborative work is very much in line with the NHS Long Term Plan. We know that by being more effective increasing cancer survival rates within our county, we would help to reduce these nationally.
We have gained so much by working together and talking about we've been able to overcome common hurdles.
I can honestly say this collaborative approach has enabled so much more to be achieved and I personally have learned so much along the way.
I recommend engaging with as many different local professionals as you can. It reduces the workload and brings so much experience to the table.
To quote another saying 'the more the merrier!'
Reducing our reliance on printed leaflets and moving towards digital methods for providing screening information presents an opportunity for us to be innovative and add value to local screening services.
PHE Screening blogs
PHE Screening blogs provide up to date news from all NHS screening programmes. You can register to receive updates direct to your inbox, so there's no need to keep checking for new blogs. If you have any questions about this blog article, or about population screening in England, please contact the PHE screening helpdesk.