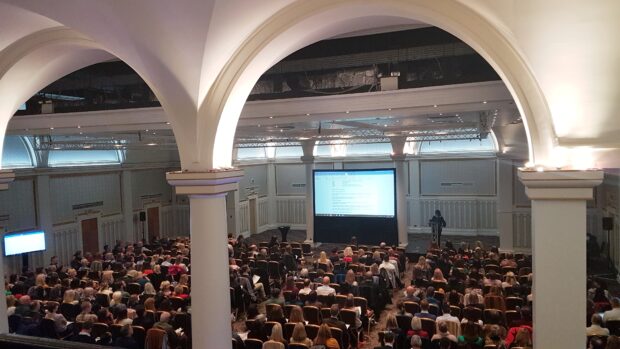 One of the roles of the Screening Quality Assurance Service (SQAS) is to support quality improvement across all 11 NHS screening programmes. With this in mind, the SQAS north team organised an event in Leeds earlier this year aimed at anyone who works in bowel cancer screening.
We have now compiled the feedback which showed that 95% of people found it useful. In this post we share a summary of important messages and learning points for local services to keep in mind.
Coming together
More than 350 people attended from 17 northern bowel cancer screening centres. SQAS north pushed boundaries due to the scale of the event and the amount of content covered.
Billie Moores, Public Health England's (PHE) SQAS national lead, said:
It was an absolutely fantastic turnout, with engagement from all across the region. Feedback has shown how much people appreciated the opportunity to get together, hear about new developments and share learning.
Plenty to discuss
Below are some of the actions and main messages from the event. We discussed:
how capacity and demand plans benefit from collaborative working between providers, commissioners and SQAS
how joint advisory groups (JAGs) can support centres with workforce planning and suggest solutions to make endoscopy more efficient
how important it is to ensure anti-coagulation standard operating procedures are consistent with British Society of Gastroenterology guidance
how setting up large polyp multi-disciplinary meetings supports the timely and efficient management of patients, and makes audit and quality monitoring easier
the difference we can make through partnership working with public health commissioning teams and by having local action plans
how to make sure that patients are on the correct pathway by taking care when using the 'closed via interrupt' option on the national bowel cancer screening system (BCSS)
how important it is to make sure all radiology fields on the bowel cancer screening system are complete
Talks, discussions and workshops
There were talks from experts including consultant gastroenterologists, commissioners and national level policy experts.
Delegates heard updates from:
Professor Anne Mackie, Director of Screening at PHE
Dr Siwan Thomas-Gibson, consultant gastroenterologist and endoscopist St Mark's Hospital
Professor Matt Rutter, consultant gastroenterologist at North Tees and Hartlepool NHS Foundation Trust
Emma Wilson, head of co-commissioning (Yorkshire & Humber), NHS England
Natalie Hill, PHE senior screening QA advisor
Billie Moores, PHE SQAS national lead
A wide range of subjects were covered including:
a 10 year overview of the bowel cancer screening programme
a 5 year future plan and changes to surveillance within the programme
Workshops were led by programme leads and professional clinical advisors who support the work of SQAS. These sessions focused on sharing best practice and covered topics including:
health inequalities
improving patient experience and episode management
clinical practice
At the end of the day there was an opportunity for a lively question and answer session with national leads.
Thumbs up for event
Our evaluation shows that:
95% of people found it beneficial
80% liked the mix of presentations and workshops
Now the dust has settled it's great to know there is an appetite for another similar event in the future. Hopefully see you all again in 2 years time!
PHE Screening blogs
PHE Screening blogs provide up to date news from all NHS screening programmes. You can register to receive updates direct to your inbox, so there's no need to keep checking for new blogs. If you have any questions about this blog article, or about population screening in England, please contact the PHE screening helpdesk.