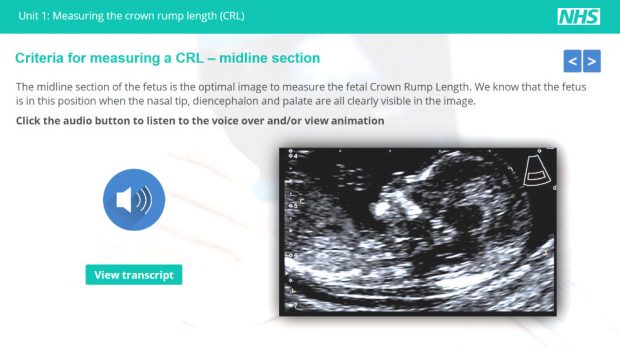 We have just refreshed and updated our e-learning resource for ultrasound practitioners involved in first trimester screening.
It is mandatory training for all ultrasound practitioners involved in screening for Down's syndrome, Edwards' syndrome and Patau's syndrome in pregnancy. The course must be completed every 12 months.
What's new?
The e-learning is much more hands on and interactive. This was a real focus for the team to help users engage and learn more.
The new resource replaces the one called 'Nuchal Translucency', and now consists of 6 units instead of 8.
Units include:
measuring the crown rump length (CRL) for the combined test
measuring the nuchal translucency (NT) for the combined test
measuring the head circumference
screening pathways
sonographers' issues to consider
optimising CRL and NT measurements
Units 1, 2 and 3 are all designed to provide a visual guidance on the NHS Fetal Anomaly Screening Programme (FASP) criteria for measurements required when a woman chooses to accept the offer of first trimester or quadruple screening.
Unit 4
There is also a completely new unit looking at the screening pathway and options (unit 4), which shows an animated pathway based on the results of the combined test. Each step is clearly shown, making it easy for the user to understand what they need to do next in any given situation.
Unit 5
Unit 5 covers some of the challenging situations that sonographers face. These include:
supporting personal informed choice
screening in twin pregnancies including vanishing twin
unexpected findings on scan in the first trimester
Unit 6
In unit 6, the e-learning gives practical tips on how to adjust scanning techniques and/or the ultrasound equipment to improve the image allowing for more accurate measurements.
Why is the training important?
Getting an accurate measurement of the CRL and NT is important in antenatal screening. These measurements have a direct effect on the calculation of the chance of having a baby with Down's syndrome, Edwards' syndrome and Patau's syndrome.
Evidence suggests that the way sonographers perform these measurements changes over time for various reasons, which is why there is a need to regularly update knowledge.
We want to thank everyone who helped review, update and pilot this new module.
At the end of the resource is a link to a survey. Your feedback is valuable, and we would like to know what you think of the new e-learning.
PHE Screening blogs
PHE Screening blogs provide up to date news from all NHS screening programmes. You can register to receive updates direct to your inbox, so there's no need to keep checking for new blogs.
If you have any questions about this blog article, or about population screening in England, please contact the PHE screening helpdesk.