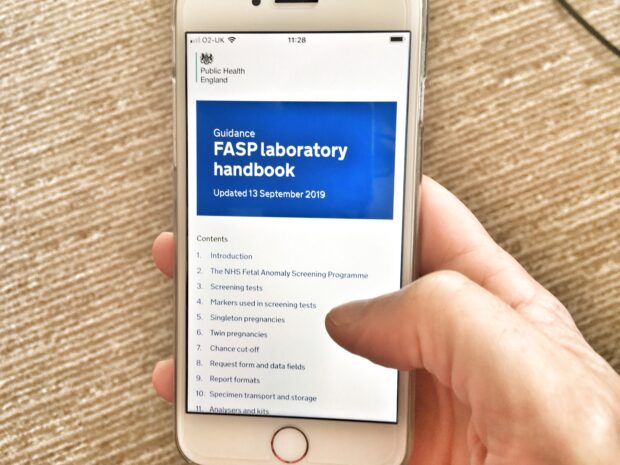 The NHS Fetal Anomaly Screening Programme (FASP) handbook is the 'all you need to know' guide for screening laboratories.
The newly updated lab handbook is now easier to view, more accessible and easier to keep up to date. This is because we have published it in accessible webpage (HTML) format for the first time.
Changes include:
clarifying the guidance on screening in vanished twins
highlighting eligibility criteria for the offer of screening in response to learning from safety incidents
FASP offers screening for pregnant women to check the baby for fetal anomalies, Down's syndrome, Edwards' syndrome and Patau's syndrome.
Vanished twins
In first trimester screening, if a scan shows an empty second pregnancy sac, the combined test can be offered. This is because the biochemical markers appear no different to a singleton pregnancy.
But if a scan shows a 'vanished' twin (a second sac containing a non-viable fetus), there could be a contribution to the maternal biochemical markers for many weeks.
In these cases, the crown rump length (CRL) and nuchal translucency (NT) measurements of the viable fetus should be taken and the woman referred to a specialist who can discuss other options for testing.
These options will be outside of the scope of the national screening programme.
In second trimester screening, the quadruple test can be offered in either scenario. This is because the changes seen in the biochemical markers tend to cancel each other.
Eligibility criteria 
CRL measurement
For the first trimester combined test, entry into the screening programme is based on the CRL measurement rather than gestational age.
So, the eligibility for first trimester combined screening is a CRL measurement between 45.0mm to 84.0mm.
When the CRL is above 84.0mm then the second trimester quadruple test is offered.
Gestational age
For offer of the quadruple test, the gestational age should be calculated using the head circumference (HC).
So, if the CRL is above 84.0mm then the HC is measured and should be equal to or greater than 101.0mm for the quadruple test blood sample to be taken.
When the HC is less than 101.0mm the blood sample cannot be taken that day and the woman will need to be invited back at a later date when she is between 14⁺² and 20⁺⁰ weeks of pregnancy, calculated by using the HC measurement.
Assessment techniques and biometric charts used for fetal measurements for screening must meet the nationally recommended standards, using the Chitty charts as described in the Loughna paper.
Take a look at our Timing is everything in FASP screening blog post from June 2018 to find out more about eligibility criteria for FASP screening.
Quality assurance
We have also removed information about Down's syndrome screening: quality assurance support service (DQASS) from the lab handbook. This information is still available online if you need it.
Keep up to date
Keep an eye on the screening blog for news of updated HTML versions of our handbook for ultrasound practitioners and the FASP programme handbook later this year.
Please send any queries, suggestions or feedback about the updated handbook to the PHE Screening helpdesk.
PHE Screening blogs
PHE Screening blogs provide up to date news from all NHS screening programmes. You can register to receive updates direct to your inbox, so there's no need to keep checking for new blogs. If you have any questions about this blog article, or about population screening in England, please contact the PHE screening helpdesk.