Language is very powerful, particularly from the mouth of a health professional. It can have a profound impact on the experience and emotions of people and their loved ones living with a condition, or being told their unborn baby could have a condition identified by antenatal screening.
We're Colette Lloyd and Alison Pearson. We're 2 mums who were asked by PHE Screening to talk about the importance of the language that health professionals use when communicating with parents and parents-to-be about conditions like Down's syndrome, Edwards' syndrome and Patau's syndrome.
Down's syndrome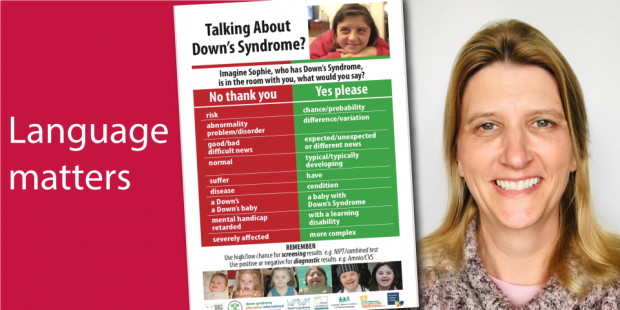 Throughout the NHS, and particularly in screening, we should make sure that our words and terminology:
are free from discrimination and prejudice
reflect our NHS core values of respect, compassion and valuing all people
The language I use around Down's syndrome has changed significantly since my daughter was identified, 21 years ago, as having an extra chromosome. I was not previously setting out to offend. And I certainly did not want to reinforce negative stereotypes. It was just easy to use words that other people commonly used, without realising how prejudiced they were.
However, full immersion into the wonderful community of people with Down's syndrome significantly changed my outlook. I realised that words such as 'risk', 'suffer' and 'abnormality' are just not appropriate.
What I've learned
It can be tricky knowing what words to replace those with though – particularly when we have been taught using them, read them in research and they have become ingrained.
I therefore created a poster to help. It does not cover everything but, as a general rule, if you would not say it about another minority group, please do not say it about Down's syndrome.
Many women I have spoken to can repeat word for word what was said to them, even many years on, when their baby was identified, before or after birth, as having Down's syndrome.
May your words be remembered as ones that brought hope and comfort, not ones that created a barrier for a woman to first overcome before bonding with her baby.
Take a look at the Down's Syndrome Association terminology guide for more information.
Edwards' syndrome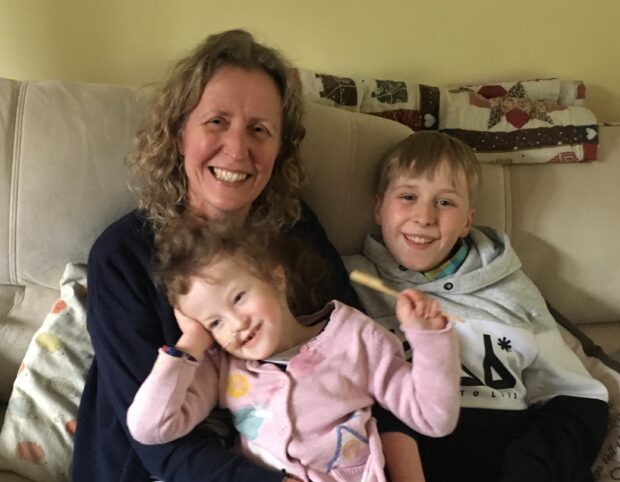 Oh isn't she gorgeous?
I am sure this is what midwives, nurses and doctors are trained to say about your new baby daughter, even if they don't truly believe it.
In our early days with our gorgeous baby Isabel nobody said this to us. Not once.
Instead, the fact that she had a diagnosis of Edwards' syndrome (trisomy 18) seemed to make it OK for a senior doctor to talk about her 'dysmorphic features' because her ears were set a little bit low: even 8½ years on I am still hurt by his blunt appraisal and lack of ability to talk about our beautiful daughter as if she were the important, loved human being she is rather than a medical specimen.
But worse was to come. In the days and weeks to follow her condition was called 'lethal', we were told it was not 'appropriate' to resuscitate Isabel should she suddenly deteriorate, and that this would be 'her way of telling us she wants to die'.
Others with the same diagnosis have been told their child is 'incompatible with life' and are beyond hurt at this wholly inaccurate description, too often used as an excuse not to allow access to even basic medical interventions.
Isabel was, and is, a beautiful, loving, gorgeous little girl, full of life, and love. She is a human being – please honour and respect her, and us.
And do not isolate us even further at a time which is already so difficult.
What Public Health England (PHE) is doing
PHE is doing a lot of work to improve the use of language and terminology in screening information and publications.
For instance, it has:
Annette McHugh, programme manager for the Down's syndrome, Edwards' syndrome and Patau's syndrome screening programme, said:
I'm really thankful to Colette and Alison for writing so clearly and powerfully about the importance of language.

The national screening team in PHE really wants to help promote and champion the appropriate use of language to improve women's experience of antenatal screening. I'd therefore ask all local services to use our national information. Where services have developed local information to supplements this, please do check that the language and terminology is consistent.
PHE Screening blogs
PHE Screening blogs provide up to date news from all NHS screening programmes. You can register to receive updates direct to your inbox, so there's no need to keep checking for new blogs. If you have any questions about this blog article, or about population screening in England, please contact the PHE screening helpdesk.