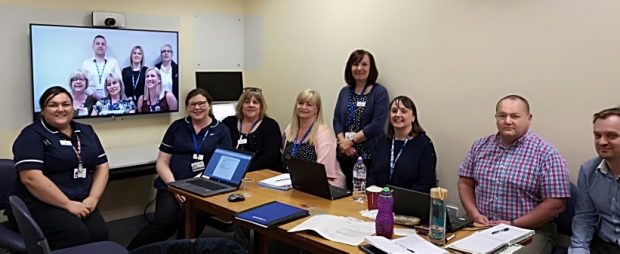 Cumbria is a large county with hospitals spread many miles apart. This can make providing screening and immunisation services challenging, so collaborative working is essential.
Following an incident, a training workshop was held for colleagues involved in immunisations and antenatal screening in Cumbria.
This workshop involved staff and practitioners from the 3 areas that make up the Cumbria Child Health Information Services (CHIS), antenatal and newborn screening co-ordinator specialist midwives and failsafe officers. We use the CHIS IT system to record clinical activity and public health interventions with children.
At the workshop we defined everyone's role and how they fit into the bigger picture. This workshop laid the foundation of our new more joined-up ways of working.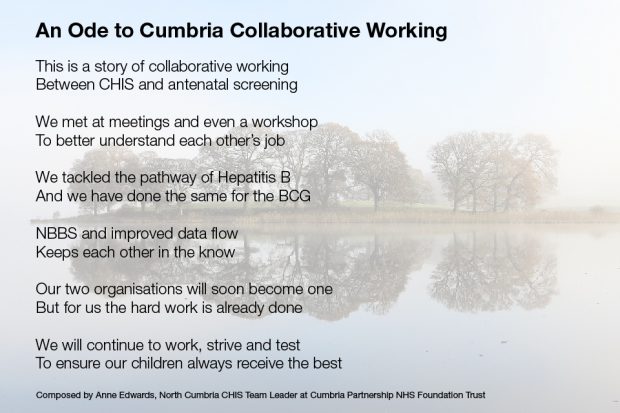 Hepatitis B pathway strengthened
A similar meeting was held for stakeholders involved in the hepatitis B screening and immunisation pathways to review processes.
After a tentative start to the meeting there was an open and cooperative discussion with all participants sharing how they could make processes more robust.
Before the workshop, details of a woman's positive hepatitis B antenatal screening result from the infectious diseases in pregnancy screening (IDPS) programme were received after birth via their baby's birth notification.
By working in partnership, it was agreed this process would change and copies of the result letter would be received before the woman gives birth. This means we are now alerted to a babies' need for vaccinations before birth as well as after birth.
We then further strengthened the pathway by introducing a failsafe process involving sharing information with the GP practice immunisation nurse.
Collaborative working in action
When a GP contacted me recently about whether a baby had received a hepatitis B vaccine, we found we did not have any information about this baby on the CHIS system. On reviewing the case with the screening coordinator we established that the baby had actually been vaccinated in the special care baby unit (SCBU).
This highlighted that we needed to improve our communication with SCBUs about babies who have had their vaccination.
Last year, as a result of these improvements, all the relevant practitioners were made aware of the vaccination status of another baby at higher risk of hepatitis B. Our screening and immunisation coordinator at Public Health England (PHE) has praised our collaborative working.
Other collaborative successes
Partnership working has led to improvements in the flow of data within our BCG programme.
Also due to improved communication links, we are able to ensure that newborn and infant physical examination (NIPE), newborn blood spot and newborn hearing screening programmes are informed of any child bereavements and movers into the area.
We continue to build on collaborative working by meeting quarterly. We encourage open and cooperative discussion to help CHIS, the antenatal screening, maternity services and pathology laboratories plan and share concerns, issues and ideas.
These regular meetings cement our working relationships and we now feel like one team rather than separate departments.
PHE Screening blogs
PHE Screening blogs provide up to date news from all NHS screening programmes. You can register to receive updates direct to your inbox, so there's no need to keep checking for new blogs. If you have any questions about this blog article, or about population screening in England, please contact the PHE screening helpdesk.