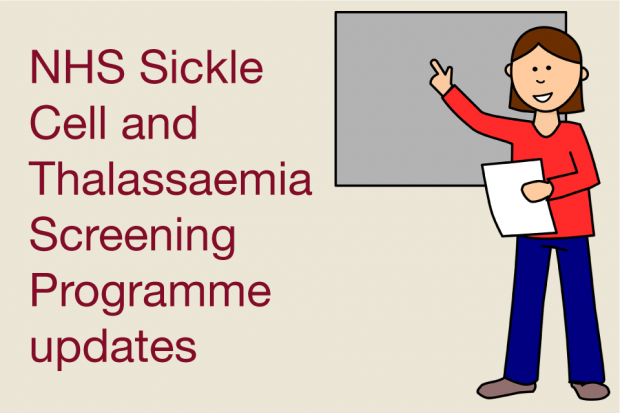 We are pleased to offer free updates for health care professionals who deliver the NHS Sickle Cell and Thalassaemia (SCT) Screening Programme.
Haemoglobinopathies: SCT screening programme update
Date: Thursday 6 June 2019

Time: 10am to 4.30pm

Location: London
This study day is for non specialist nurses, midwives and health visitors so that they can:
develop an understanding of the antenatal and newborn SCT screening programme in England
gain a basic knowledge of SCT and how these conditions are inherited
learn how to interpret screening results
understand the structures which support and maintain the quality of the programme
The course is funded by the NHS SCT Screening Programme and is free to applicants.
Feedback from recent attendees included:
I have really enjoyed today. The programme was well thought out and the information was very clear.
[I have] more awareness of the blood disorders and the importance of screening. I also feel more competent in giving results to parents and having the tools and knowledge to deliver this.
I feel I have more understanding of the symptoms associated with sickle cell and beta thalassaemia; discussion around the importance of religious and cultural influences was valuable.
Haemoglobinopathies: Specialist Counsellors Update
Date: Tuesday 25 June 2019

Time: 10am to 4.30pm

Location: London
This one day update is targeted at practitioners who have previously undertaken the PEGASUS course or an alternative SCT related module.
Applicants must be responsible for counselling women and couples at risk of having an affected baby as part of the NHS SCT Screening Programme. This includes the offer of prenatal diagnosis and/or giving results to parent(s) who have given birth to an affected child.
The course is funded by the NHS SCT Screening Programme and is free to applicants.
Recent attendees have said:
I have been on a number of screening study days and today's presentation has surpassed all of those and my knowledge has greatly improved.
[I am] more knowledgeable about haemoglobinopathies and appropriate ways of counselling.
[This has helped my] discussions with parents. Being able to explain the difference between sickle cell carriers/disease. Importance of screening partners and encouraging this practice.
PHE Screening blogs
PHE Screening blogs provide up to date news from all NHS screening programmes. You can register to receive updates direct to your inbox, so there's no need to keep checking for new blogs. If you have any questions about this blog article, or about population screening in England, please contact the PHE screening helpdesk.