Every baby is offered newborn blood spot screening, also known as the heel prick test, ideally when they are 5 days old. A special card is used for collecting the blood spot sample.
We began a review of the current blood spot card last year. A project group met several times to review the card. It proposed a new design that:
makes it easier for sample takers to complete the card and for screening laboratories to process it
reduces the number of errors that lead to avoidable repeat requests
makes it easier to identify and contact the sample taker if there is a problem with the card or if a repeat is needed
We launched a 6-week consultation to ask stakeholders for their views on the proposed changes.
The consultation report contains a summary of the responses and identifies and responds to the main themes that emerged.
Final design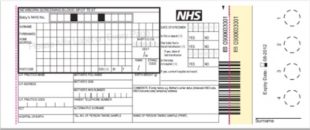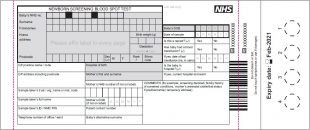 The final design of the new card is now ready and we are just waiting for quotes from the supplier.
We have sent the new design to the newborn screening labs so they can begin making any necessary changes to their information systems.
The card is around the size of a traditional postage envelope.
Next steps
We expect the new card to be in production later this year.
Providers must use any unexpired old cards which will mean a period of transition where some areas are using the new card and some the old card.
With the help of some user groups we are also developing a new e-learning module featuring a new interactive blood spot card.
Keep an eye on the blog for more information about this module and for further updates on the implementation of the new blood spot card.
PHE Screening blogs
PHE Screening blog articles provide up to date news from all NHS screening programmes. You can register to receive updates direct to your inbox, so there's no need to keep checking for new blogs.