March was a busy month for the NHS Newborn Blood Spot (NBS) Screening Programme and we're now delighted to announce the publication of some great new resources.
These are:
revised guidelines for newborn blood spot sampling
our latest annual data report
new inherited metabolic disease (IMD) leaflets for parents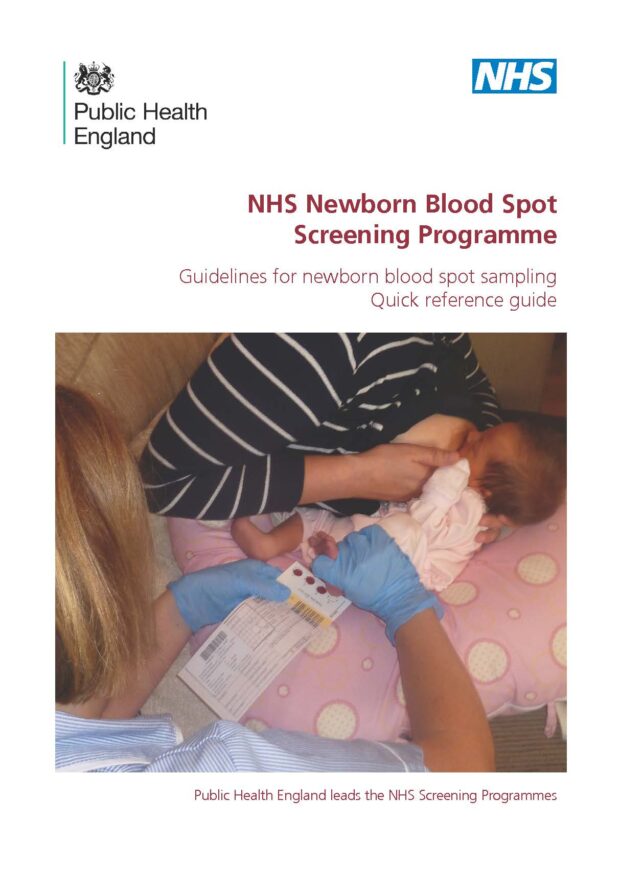 Guidelines for newborn blood spot sampling
The revised sampling guidelines (right) aim to support NBS screening, informed choice and the collection of good quality blood spot samples.
As previously, there are two versions – the full guidelines with references and a 'quick guide' with the main messages. The quick guide will be available in hard copy within the next few weeks (see how to order leaflets).
The new guidelines highlight:
the importance of NBS screening in preventing severe disability and death
steps to take if parents decline screening (plus new template letters)
why good quality samples are vital for accurate screening results
how to complete the blood spot card and collect good quality spots first time
what to do in different situations when a baby has had a blood transfusion or needs a preterm repeat
New results to parents template letters have also been developed as part of the review.
Thanks to the project team for their expertise and enthusiasm in helping us to review the guidelines.
Annual data report
The latest NBS data report (the programme's 11th) looks at UK performance across the whole of the screening pathway during 2014 to 2015.
Highlights include:
data on the four new rare IMDs that we started screening for in January 2015 – maple syrup urine disease (MSUD), isovaleric acidaemia (IVA), glutaric aciduria type 1 (GA1) and homocystinuria (HCU)
coverage for 'movers in' within the 21-day target
year-on-year trends on use of the NHS number and bar-coded label
Providers, commissioners and quality assurance colleagues are encouraged to review the report to identify areas for improvement locally.
Many thanks to the newborn screening laboratories and child health records departments that submitted data. New data collection templates for 2015 to 2016 will be available very soon.
New IMD parent leaflets
In January 2015, we expanded the NBS programme to screen babies for MSUD, IVA, GA1 and HCU.
The NBS programme now screens for 9 conditions, 6 of which are IMDs.
IMDs are very rare but if they are not picked up early they almost always cause severe developmental problems, including serious mental disability or even death. But affected babies can live healthy and active lives with well managed treatment after early detection.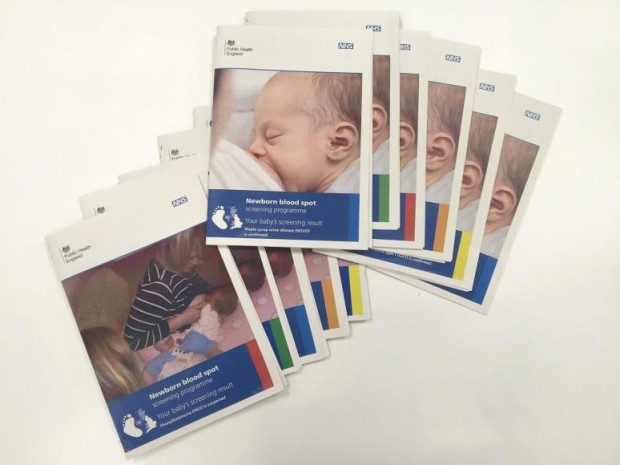 After working closely with parents, clinicians, dietitians and specialist nurses, we have developed new 'condition suspected' and 'condition confirmed' leaflets (above) for all 6 IMDs – the four new conditions plus phenylketonuria (PKU) and medium-chain acyl-CoA dehydrogenase deficiency (MCADD).
Following a positive screening result, the specialist metabolic teams should download and print off the appropriate 'condition suspected' leaflet to give to parents. The leaflet includes information about the condition and its treatment, the next steps with the specialist team, a question and answer section and links to more information and support.
If the condition is then confirmed by diagnostic tests, the team will give parents the appropriate 'condition confirmed' leaflet. This has additional information, including:
symptoms of the condition
dietary and/or medication requirements as part of treatment
the emergency regimen high sugar drink given if an affected baby becomes ill
questions and answers, including the testing of siblings and early testing for future children
Printing the leaflets
All the new leaflets are available to download and print from GOV.UK.
If your compute has the option you can print the new leaflets as A5 booklets:
download the pdf
select print under the File menu (Ctrl-P)
select the 'Booklet' option under Page Sizing & Handling in the pdf print dialog box (see screen shot below)
press 'Print'
PHE Screening blogs

PHE Screening blogs provide up to date news from all NHS screening programmes – replacing our previously published newsletters.
You can register to receive updates direct to your inbox, so there's no need to keep checking for new blogs.