Education and training for the NHS Screening Programmes has been on GOV.UK since December 2017. We moved it there to align it with the rest of PHE Screening's guidance and publications.
After 2 months, we've decided now is the right time to close the old continuing professional development (CPD) website.
From the start of next week (19 February 2018), the CPD website will no longer be available.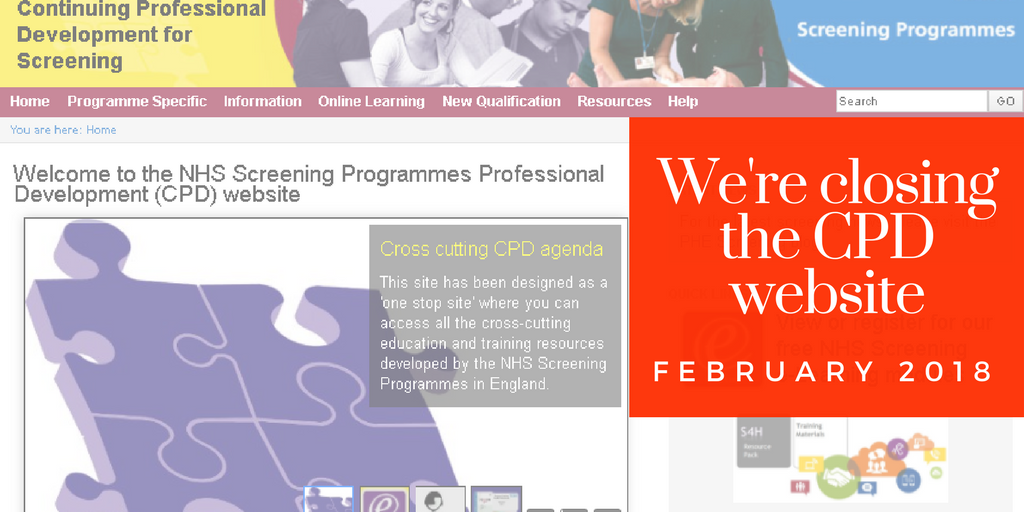 Where to find everything you need
Instead, you'll have to visit:
We've kept a snapshot of the CPD website for looking back on in case you really need to see something. But it's best to get used to the new look webpages.
Visit the archived CPD website.
Why the CPD website is disappearing
I've written before about why we moved to GOV.UK and where to find all the different types of content we have to offer.
What next for education and training?
The pages on GOV.UK will continue to evolve. We are constantly trying to improve the experience for our website users.
Look out for some exciting new projects later this year. We've got new e-learning along with some other new materials in development.
Newborn hearing screening programme contacts
Access to the NHS Newborn Hearing Screening Programme (NHSP) contacts database will not be closing next week.
NHSP users can still access the contacts database with their username and password.
PHE Screening blog
PHE Screening blog articles provide up to date news from all NHS screening programmes. You can register to receive updates direct to your inbox, so there's no need to keep checking for new blog articles.