The NHS Newborn and Infant Physical Examination (NIPE) programme screens newborn babies within 72 hours of birth, and then once again between 6 and 8 weeks of age, for conditions relating to their eyes, heart, hips and testes.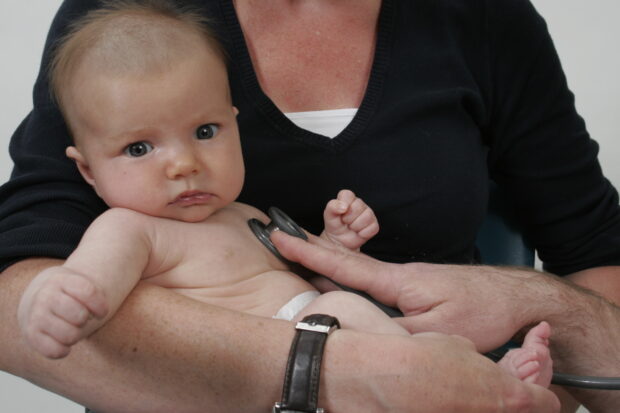 The NIPE Screening Management and Reporting Tool (NIPE SMART) IT system is provided free to trusts. It tracks newborn babies throughout the screening pathway and provides a failsafe system to ensure no babies miss out on this detailed physical examination.
We are pleased to announce that an updated version (5.7) of NIPE SMART will be available to users on Tuesday, 13 February 2018.
The NIPE programme has funded the update as part of its regular review process. Changes have been made in response to:
user requests
reported screening incidents
identified user needs from feedback of national programme support visits to trusts
comments received through the NIPE SMART user group
The main aim of this new release is to improve the entry of screening/referral outcomes for the 4 screening elements of the examination – eyes, heart, hips and testes – in order to improve programme reporting. The update will also help local NIPE services with audit and oversight/management of referral outcomes.
We carefully tested the software before its release to make sure it works as expected. The NIPE SMART User group was consulted at each stage of the planning process and involved in the testing.
Detailed release notes with screen shots will be made available to give NIPE SMART designated leads/ users an understanding of the changes. A summary of the main changes is listed in the table below.
 Function
Change
Access to national documents
Clearer access to national documents. The leaflets option in the letters menu has been relabelled  'National Documents'.
Hips Other
To capture hip conditions which are managed via local referral process but are outside national screen positive criteria, such as 'clicky hips'. The focus here is  to improve accuracy of NP2 data overall.
Referral: Date Sent or Appt Made
Allows entry of date: mark as sent (usually date of screen) or date of appointment made (this date will be carried through to the referral data entry).
New outcomes tab

 

Improved outcome entry:

A new 'Outcomes' tab will be displayed for babies born on or after the release date of the new software. Referral outcome details for any of the NIPE examinations are entered from this tab.

The tab will be highlighted in red if the system is waiting for outcome details to be entered. If no outcome details are required then the tab will be displayed normally (see screenshot below).

The window that opens for unilateral undescended testes is different to reflect the referral to a GP.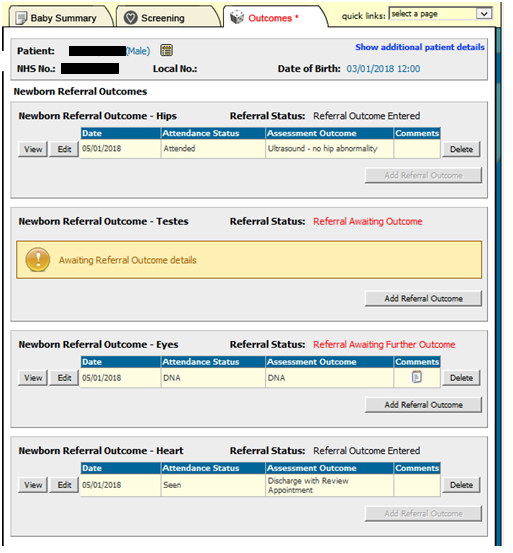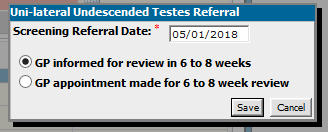 NIPE SMART has evolved over time in response to feedback and change requests and we hope this latest release will make it even more effective.
Please continue to email any change requests to NIPE.Helpdesk@nhs.net and send any comments via the screening helpdesk.
PHE Screening blogs
PHE Screening blogs provide up to date news from all NHS screening programmes. You can register to receive updates direct to your inbox, so there's no need to keep checking for new blogs.